I know I can't believe it either, but 'tis the time of the year to start thinking about Christmas gifts and other holiday gifts! I'm definitely not one to advocate for senseless or conspicuous consumption (honestly, I don't even like shopping that much), but I do like giving my kids a few thoughtful Christmas gifts that I think will enrich their lives, as well as inspire them to care for nature and play outside in years ahead. By sharing my third annual holiday gift guide for outdoorsy kids, I'm hoping that you will find some useful ideas too. Should you decide to buy something after clicking on the Amazon links, I will receive a small commission at no extra cost to you. Thank you for supporting my work to get kids back outside!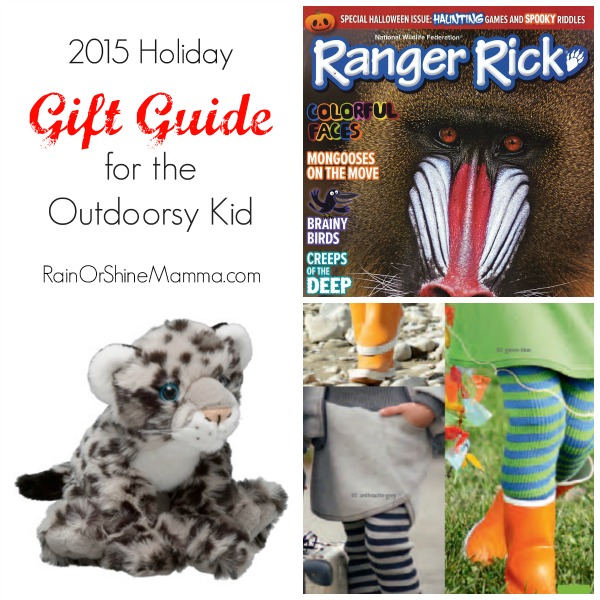 I'm also pleased to include not one but TWO giveaways at the end of this post! The first is for the National Geographic book Secrets of the National Parks and is sponsored by the National Park Trust. The second is for a $50 gift card to Garage Grown Gear, a company that sells outdoor gear made by some really cool American start-up companies. I absolutely love the ethos of this company and the fact that every product comes with its own start-up story!
As usual, I've also linked up with a group of other outdoor family bloggers, who are sharing their best holiday gift ideas – make sure to click through to their posts! Many of them have AWESOME giveaways as well.
But back to the gift guide. For the past few years I've used a simple system of buying only four gifts to each of my two girls: Something they WANT, something they NEED, something to WEAR, and something to READ. I've also added something to DO as a family, which is really my favorite part. I like this system a lot, because it gives me some structure when I shop and it keeps things from getting out of hand, so I'm using this breakdown for my gift guide as well.
Something they WANT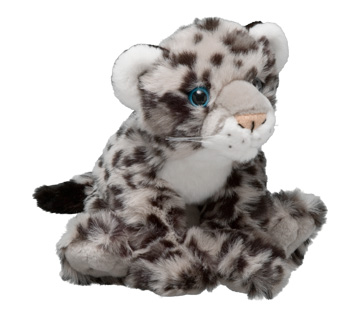 Plush animal from WWF. My kids are really into plush animals right now and the sweet thing about WWF's stuffed animals is that the profits from each adoption kit goes toward protecting that particular species. The starter kits include a stuffed animal, an adoption certificate, photo and gift bag. (From $55 from WWF)
ENO Hammock. We bought an ENO DoubleNest hammock earlier this year and it was a HUGE hit with the kids from day one. If you're only buying one thing for the backyard or for camping this year, make it a hammock! Read my full review of the ENO hammock here. (From $50 on Amazon)
Growing Up Wild DVD Set. I'm a big fan of nature documentaries, because I think they can make children curious about nature and the cycle of life. Although I haven't yet seen the Growing Up Wild series I can't wait to dig into it alongside with the kids! I think watching it will be time well spent, even if we'll be in front of a screen. ($19.99 on Amazon)
Something they NEED
Bolle Kids Ski Goggles. If you have a little skier in the family, I highly recommend the Bolle brand. I've had my own Bolle goggles for well over ten years and more recently I bought some for my oldest daughter too. This model fits kids from 6 years and up, and comes in many different fun colors. ($23.99 from Amazon)
Camelbak Scout Hydration Backpack.
This was the year when I discovered that wearing their own hydration backpack was a great motivator when it comes to getting my kids on the trail. I'm a big fan of Camelbak and have one of their day packs myself. This year I got the 12.5-liter Scout hydration pack for my 4-year-old and the slightly larger Trailblazer for my 7-year-old. (From $44.99 on Amazon)
Black Diamond Wiz Headlamp.

For the little camper in your life this is a great headlamp. My daughter uses it not just for camping, but for other nighttime adventures outside during the dark months. It's bright and easy for a young child to operate, and the batteries seem to last forever. ($19.24 from Amazon)
 Something to WEAR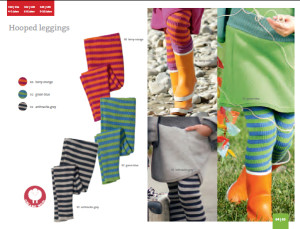 Disana wool leggings. Wool is an excellent material for kids and adults alike, as it is natural and much warmer than cotton. I was really pleased to see that the new Disana line from Sofee & Lenee – German Kinder Accessories – includes these adorable leggings. If you have a boy, their wool sweaters and beanies are pretty darn cute too! ($35 from Sofee & Lenee)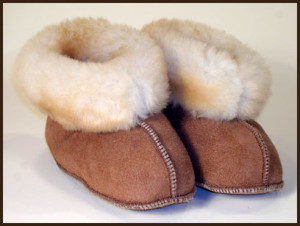 Sheepskin slippers. Wool socks and sheepskin slippers is how this family rolls in the winter, so I was excited to find these slippers from The Leather Works. I love that these sheepskin slippers are made  in the US, by a small, family-owned company that is based in Coeur d'Alene, Idaho. They are also washable, which is always a plus when you're dealing with kids! Sizes range from baby to big kid. (Starting at $30 from The Leather Works)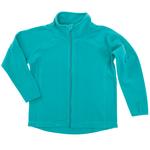 Fleece jacket. Fleece makes for a great second, insulating layer during the cold season and I keep multiple around for the whole family. This basic fleece top from Polarn O. Pyret (a favorite company of mine) is made from recycled materials and can be combined with matching pants. ($35 from Polarn O. Pyret)
Something to READ

Magazine subscription. Ranger Rick Magazine is a monthly magazine published by the National Wildlife Federation, and is geared toward children 7 years and up. For readers in the 3-7 age range, there is Ranger Rick Jr.
Both magazines feature fantastic photos, fun games and activities, and interesting facts about nature. It's literally the gift that keeps on giving all year! ($24.95/year from Amazon)
Fiction book. Out of all of Astrid Lindgren's children's books, Ronia, The Robber's Daughter is definitely one of my all-time favorites, and it's one that I've read over and over to my oldest daughter since she was 6. Ronia is as much a tale of a strong, independent female protagonist as it is a beautiful tribute to the bond between a girl and the mythical forest where she grows up. ($14.13 from Amazon)
Picture book. I'm a big fan of Stacy Tornio's books, since they're not only packed with great information about nature, but also are a lot of fun to read. (Read my review of her book The Truth About Nature here.) In Cathy's Animal Garden: Enter at your own risk
, two boys' adventure in the neighbor's garden leads to a lot of learning about plants and animals. The book is geared toward kids aged 2-8. ($16.95 from Amazon)
Stocking Stuffers
Kate's Real Food bars. The bars from this Idaho-based company are both organic and delicious! ($35.99/12 bars from Garage Grown Gear)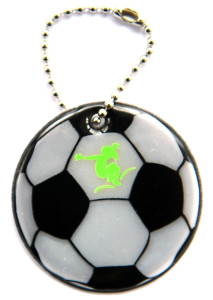 Active Kids Club Reflector. These reflectors can be attached to a jacket or backpack and help keep kids visible while playing outside after dark. ($3-4 from Activekidsclub.com)
Flower Fairy Necklace. This is one of many adorable designs from The Magic Onions – a great fit for little fairy fans! ($20 from The Magic Onions)
Giveaways:
a Rafflecopter giveaway



a Rafflecopter giveaway

The giveaways are open to U.S. residents only and end at midnight on November 25, 2015. Winners will be notified via email after the drawing is over and need to respond within 48 hours to claim their prize. This giveaway is not affiliated with Facebook, Pinterest, Twitter, Google+ or any other social media.
Check out these outdoor family gift guides as well:
Family Adventures in the Canadian Rockies – Holiday Gift Guide for Winter Hiking and Snowshoeing + GIVEAWAYS
Tales of a Mountain Mama – Gift Guide for Outdoor Families 2015 + GIVEAWAYS
Play Outside Guide – Outdoor Lovers Holiday Gift Guide + GIVEAWAYS
Go Adventure Mom – 28 Holiday GIVEAWAYS
Mountain Mom and Tots – Best Gear of the Year + Links to Holiday Gift Guides
OutdoorsyMama – 15 Things Your Outdoorsy Mama REALLY Wants for the Holidays! Gift Guide
AdventurousParents.com – 5 Gift Ideas for Outdoorsy and On-The-Go Toddlers + Veyo Mittyz GIVEAWAY
Rockies Girl – 2015 Gift Guide for Outdoor Families
Brave Ski Mom – The 2015 BSM Holiday Gift Guide for Skiers and Snowboarders + 13 GIVEAWAYS
Wilder Child – Unique and Handmade Holiday Gifts for Your Little Nature Lover + GIVEAWAY
Nature for Kids – Rad Gifts For Outdoorsy Kids
Moms Who Hike- Holiday Gear Guide
Hike Like A Woman- Holiday Gear Guide
Wild Tales Of – 2015 Holiday Gift Ideas for the Young Traveler and Outdoor Adventurer
Outdoors Mom – A Gift Guide For The "OutdoorsMom"
RockiesChick – Holiday guide for the little explorers