I'm not much for shopping and I strongly believe that some of the best toys are free, especially when it comes to outdoor play. Troll houses, giant dens, and fairy gardens have all come to life in our backyard courtesy of my daughters' vivid imaginations.
But there are some exceptions, and I want to share something that has made my daughters even more eager to play outdoors this year.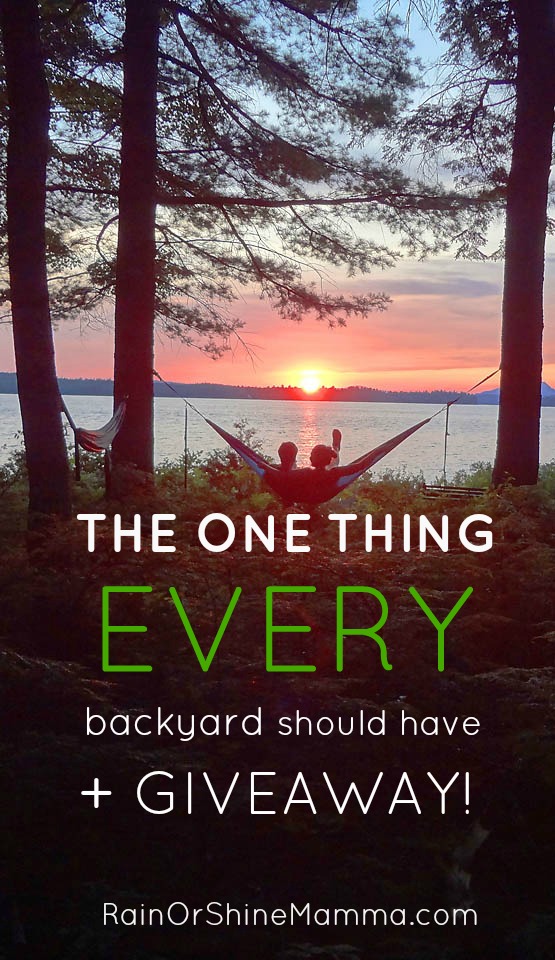 It all started when I went on a backpacking trip with my oldest daughter last summer. At one point we were passed by a couple in their 20s who were on their way to the same campsite as us, but looked like they were only outfitted for a day hike. Meanwhile, I was hauling 40 pounds worth of gear for me and my daughter (and, at times, lugging her day pack as well). I remember thinking, 'These people are either grossly unprepared, or they're on to something that I don't know about.'
As we started pitching our tent at the campsite after the eight-mile hike, I saw the couple again and had to ask them how on Earth they managed to go on a backpacking trip with so few supplies. The guy smiled and said, "Oh, we just sleep in our hammocks. That saves us from having to pack a tent, and we don't need any sleeping bags either."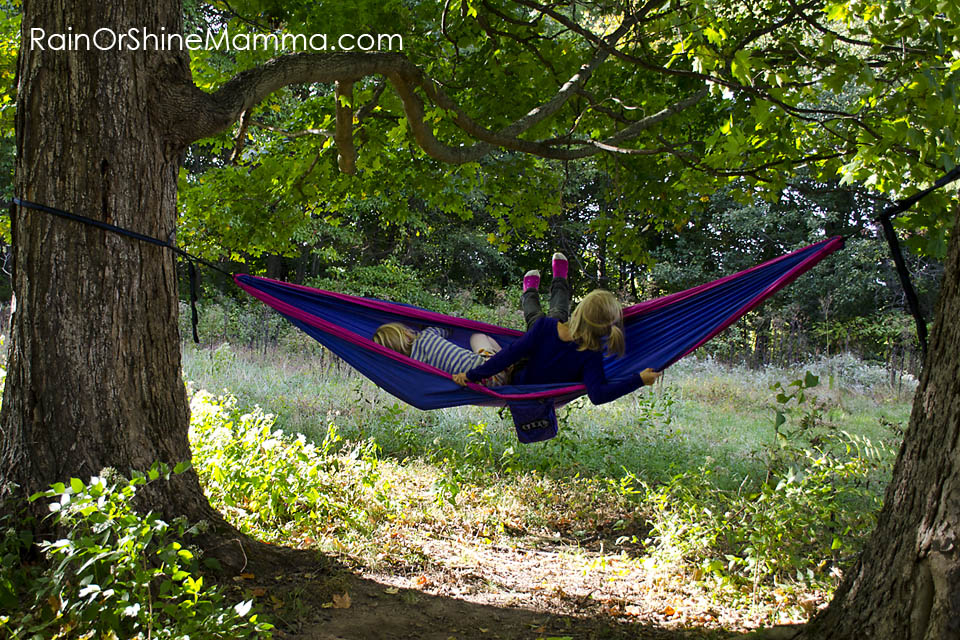 My daughter and I were both pretty jealous of the couple when we settled in on the hard forest floor that night (in a misguided attempt to minimize weight I had decided not to pack any sleeping pads), and from that light bulb moment on I knew I had to buy a hammock. After doing some research I decided to go with the Eagles Nest Outfitters DoubleNest hammock, as it had gotten rave reviews and seemed large enough to fit all three of us.
I wanted it not just for backpacking, but for everyday use in the backyard during the warmer months. I had a feeling it would be a hit with the kids – and I was right!
A few months after we made our new purchase I can report that our hammock has been used and abused in ways I couldn't even imagine (and may or may not be sanctioned by the manufacturer), and it is still in great shape.
Suspended between two sturdy maple trees in our backyard, our ENO hammock has become a natural gathering point for the whole family. I find it relaxing and love that it's a simple way to connect outdoors as a family, whether we're hitting the trail or not. Weather permitting, we often use it as a reading nook. And if the girls can't think of anything to do, a simple "Why don't you go play in the hammock for a while?" usually does the trick. If there is ONE thing I would recommend adding to your backyard, if you haven't already, this is it!
Even if you live in the city or don't have a backyard that is big enough this hammock is great for camping or just relaxing in a local park or nature area (just be sure to check your local rules and regulations first).
Since we love our hammock so much I'm extremely pleased that ENO has offered to sponsor a giveaway of a SingleNest hammock
to one lucky reader. Make sure to enter it!
Terms and conditions: This giveaway is open to U.S. and Canadian residents only. The color of the hammock may vary depending on availability. Entries will be accepted until midnight on November 4, 2015. The winner will be notified by email and will need to respond within 48 hours to claim his/her prize, or a new winner will be drawn.

Disclosure: This post contains affiliate links. You can read my full disclosure policy here. Eagles Nest Outfitters is generously supplying the prize for this giveaway, however I have not been paid or received products in return for this post. All opinions are truly my own!