I love the festivities, the family gatherings and the togetherness that usually accompany Christmas. But I'll never embrace the pressure – whether perceived or real – to shop until you drop. Senseless consumption is environmentally unsustainable and flies in the face of everything I stand for. And I really don't want my two girls to think that Christmas is just about the number or value of their gifts. This doesn't mean my kids are deprived of holiday gifts. Between their parents, grandparents and other extended family they get what they need and then some. Since I know I won't get out of holiday shopping completely, I might as well make the best of it. To keep things organized I always make gift lists ahead of time, and the past few years I've shared my Christmas gift ideas for kids who like the outdoors with you as well. (Make sure to check out last year's Holiday Gift Ideas for the Outdoorsy Kid and 2014's 25 Great Holiday Gift Ideas for Outdoor Kids as well.) Naturally, you can use the gift ideas for inspiration whether you celebrate Christmas or not!
A few years ago, I adopted a system of buying only four gifts for each of my girls: Something they want, something they need, something to wear, and something to read. I've also added something to do as a family, which is really my favorite part. And let me tell you – this system has revolutionized the way I think about holiday shopping. It keeps me from buying things randomly and impulsively, it's a natural way of capping the number of gifts, and it makes it much easier to keep the gift giving fair. (My kids will hold me to it!) It also seriously cuts down on holiday-induced stress. This year I was done with my Christmas shopping for the girls by the start of November – a new record! (If you're feeling the holiday stress creeping up on you, check out 5 Fool-Proof Ways to Beat Holiday Stress and Truly Enjoy the Season.)
I've organized my Christmas gift ideas according to the "want, need, wear and read" system as well, and I'm hoping that it will help you find some useful ideas for your kids this holiday season. Although my girls are now 5 and 8, I've included Christmas gift ideas for preschoolers as well. Should you decide to buy something after clicking on the Amazon links, I will receive a small commission at no extra cost to you. Thank you for supporting my work to get kids back outside!
Pssst. In celebration of the holidays I'm also giving away a copy of I Love Dirt! 52 Activities to Help You and Your Kids to Discover the Wonders of Nature by Jennifer Ward – make sure to read on to the end to find out how to enter.
Christmas Gift Ideas for Outdoorsy Kids – 2016 Edition
Something they want
Amanico Kids Walkie Talkies,
Walkie Talkies are a fun gift for kids who are ready for a little more independence in the outdoors (and for the hovering parent who would love to grant them a little more freedom and still have a way to communicate with them!) These have a range of up to 3 km (2 miles) and can be used by children as young as 4 years old. ($29.99 on Amazon)

Outree Kids Pod Hanging Swing Seat Hammock,

If your kid like hammocks, they'll love this swing seat! It's perfect for reading, listening to music or just kicking back and enjoying some downtime outside. A perfect addition to any backyard or camping trip – just clip it onto a tree branch and you're good to go. ($38.89 on Amazon)
I know, I know, this classic outdoor toy is something that you could feasibly make at home with some sticks, rubber bands and some serious MacGyver skills, but the girls and I have tried in the past and failed. Although I haven't personally tried this one out, I love that each of these wooden slingshots is one-of-a-kind and made by an artisan in the US. ($34 on Amazon)
Insect Lore Butterfly Garden
We used this kit to raise butterflies a few years ago and had a ton of fun with it! Even though my oldest daughter had learned about the butterfly life cycle at school, it was something else altogether to see the metamorphosis live. This kit includes a collapsible habitat, feeding pipette and a mail-in voucher for five live caterpillars, to be redeemed when the weather is warm enough for butterflies to be released. ($12.39 + $7.95 fee for processing caterpillars, on Amazon)
Something they need
Exped Synmat 7 Pump Sleeping Pad
I've tried a lot of sleeping pads and this is the first one that has not left me with a back pain the next day. It's lightweight, comfy and has a built-in pump, making it perfect for backpacking. It's a little pricier than many other options, but to me getting a good night's sleep is worth it. And since my kids won't stop fighting me over my Exped Synmat sleeping pad, they're getting their own this year. ($102.95 on Amazon)
Trekology Kids Tent Light/Camping Lantern
Whether they're in a tent or in their beds, my kids always like to keep the light on when they go to sleep. This camping lantern has a fun Pokemon ball design and is waterproof and kid-friendly. I like that it's rechargeable and that the USB cable turns into a hanger loop, which makes it easier to place in the tent. One charge lasts for up to 14 hours, according to the manufacturer. ($14.99 on Amazon)
Morakniv Wood Carving Knife
This is the knife of choice for many Swedish Scout troops, so when my oldest daughter was ready for her first knife this was a natural choice for us. If you think your child too is ready to start with some basic whittling, it is an excellent beginner's knife as it has a blunted top and double finger protection. Make no mistake, though – the 3.3-inch stainless steel blade is sharp. ($28.50 on Amazon)

Stearns Puddle Jumper


We discovered this life jacket when my youngest daughter was little and it made our time at the pool and lake a lot more enjoyable. The design of the Puddle Jumper makes it easy for kids to stay upright in the water, while giving them the freedom to move around and practicing their swimming skills. It is Coast Guard approved and come in a range of fun colors and designs.  ($18-$25 on Amazon)

 Something to wear
Hi-Tec Altitude Lite I WP Jr. Hiking Boot,
I purchased these for my 8-year-old daughter a while back and whereas she loves the color (they come in purple as well) I mostly appreciate how light-weight yet sturdy they are. Great waterproof, all around hiking boot with ample ankle support and good traction. (Starting at $35 on Amazon)

Abeko Waterproof Fleece-Lined Rain Mittens

If your kids play outside every day regardless of the weather, chances are they will at some point need waterproof mittens. My girls have used hand-me-down Abeko mittens for years, and some of those mittens are still holding up after being used by three kids. They are truly waterproof (believe me, my kids have put them through the test!) and extremely durable. On colder days, I will sometimes layer with a pair of  knitted gloves underneath for extra warmth. ($19.95 on Amazon)
Polarn o Pyret Merino Wool Long Johns
I bought a two-piece set of Polarn o Pyret's long underwear for both of my girls last year and love them. They can be used as a base layer while outside in the winter, or just for lounging around the house. Forget the itchy wool long johns of the past – these merino wool pants and shirts are comfy and feels good on your skin. My kids even use them as jammies sometimes. ($42.50 on Amazon)

Oakiwear Ski Jacket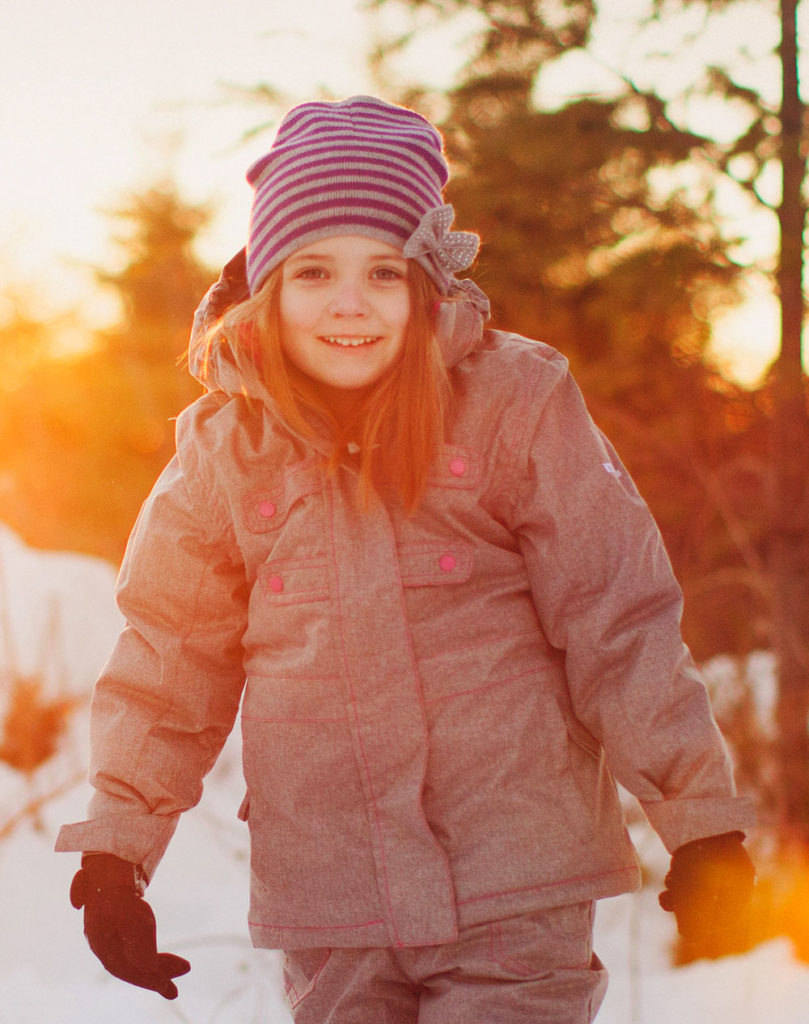 I have to admit that we were pretty late to the party with Oakiwear, even though I'd heard fellow bloggers rave about the brand for years. My 8-year-old has both the jacket and pants in this style and so far she's loving it. Waterproof and warm, this is the perfect set not just for skiing but other outdoor winter activities as well. Sizes 3T-12. (On sale for $37.99 from Oakiwear)
Something to read
I am Jane Goodall
I've always had great admiration for chimpanzee scientist Jane Goodall, and this picture book biography does a wonderful job of sharing her compelling life story on a child's level.  What I love the most about Brad Meltzer's book is its uplifting message that ordinary people can rise up to do extraordinary things. The future will need more people like Goodall, and hopefully reading this story to our kids will inspire their budding conservationist spirits. ($8.98 on Amazon)
Children of the Forest
In this timeless classic by Elsa Beskow we get to know a family of gnomes who live in the roots of a pine tree in the forest. Published in 1910, the book is delightfully slow-paced and mainly follows the four children as they help their parents with seasonal chores and encounter various forest critters. The book is as much artwork as it is fairy tale, as it is beautifully illustrated by Beskow's water color paintings on every page. ($8.46 on Amazon)
National Geographic Little Kids First Big Book of the World
This excellent non-fiction book from National Geographic explores all of the seven continents, and delves into the geography, climate, wildlife, culture and people of each one. If your kids enjoy National Geographic Kids Magazine (my kids have been enthusiastic subscribers for years) they'll likely love this book as well. And the facts aren't just for kids – as I read it I found that I learned some new things as well. ($10.40 on Amazon)
We love following Curious George and his mishaps. In this Curious George book by Margret and H.A. Rey, the spunky little monkey and his friend the man with the yellow hat go camping. Curious George is trying to help, but as usual things don't exactly turn out the way he expects them to. ($3.48 for paperback on Amazon)
Stocking Stuffers:
Coughlan's function whistle for hiking and camping
Deluxe magnifying glass for kids
Giveaway
Do you have the ambition to get outside with the kids every day but sometimes fall short because you lack the motivation or inspiration? Then a copy of I Love Dirt! 52 Activities to Help You and Your Kids to Discover the Wonders of Nature by Jennifer Ward is exactly what you need! Just comment on this blog post and tell me if you saw anything in the gift guide that you consider buying for your kids.
If you already subscribe to my email updates you're good to go! If not, you need to sign up here and confirm your subscription before entering the giveaway.
Giveaway terms and conditions:
The giveaway is open to U.S. residents only and runs from November 17, 2016, at 8:00 am EST until November 24, 2016, at 8:00 am EST. The winner will be picked through random drawing and will be notified via email.
More holiday gift guides and giveaways for outdoor families:
Save
Save
Save
Save
Save
Save
Save
Save
Save
Save
Save
Save
Save
Save