A couple of years ago I created some DIY valentine cards for my daughter's class using rocks, but this year we're going in a completely different direction, and are instead creating Valentine's Day nature art. But what exactly is nature art? Nature art can be many things and the only "rule" is that it is art that in one way or another is inspired by nature. It can be as simple as finding beauty in nature and reproducing it by painting or photographing it, or creating works of art by manipulating or interacting with nature.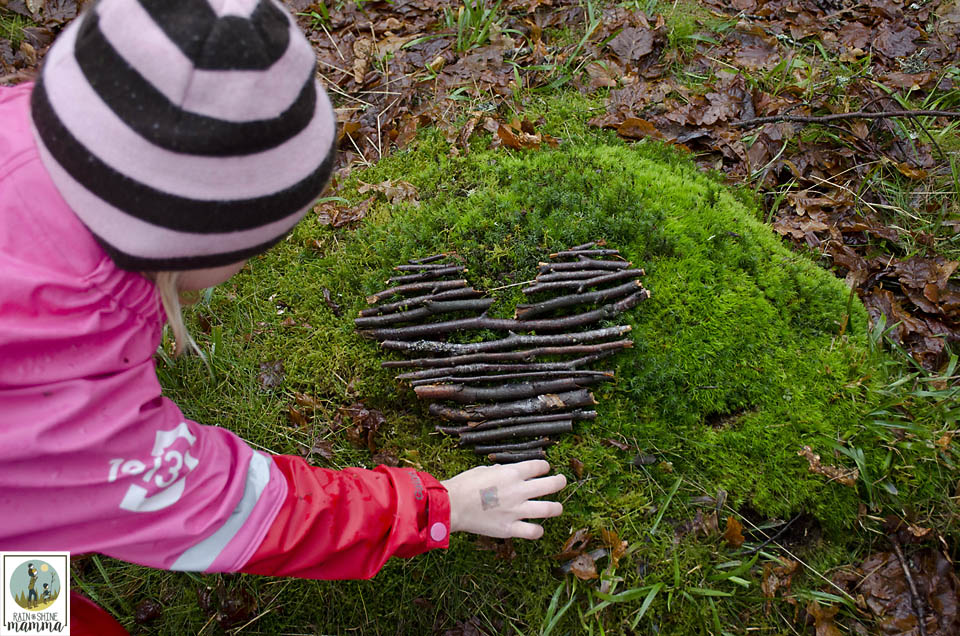 Lately, I've been inspired by British artist Richard Shilling, whose land art creations are amazing and really speak to kids. Another fantastic source of inspiration is Chelsey Bahe of Take 'Em Outside, whose whimsical yet detailed animals made solely from items in nature blow my mind. I'm certainly no artist, but I firmly believe that you don't have to be a professional in order to encourage children to seek out and create beauty in nature. At least that's what I told myself when I set out to create Valentine's Day nature art with my daughters the other day.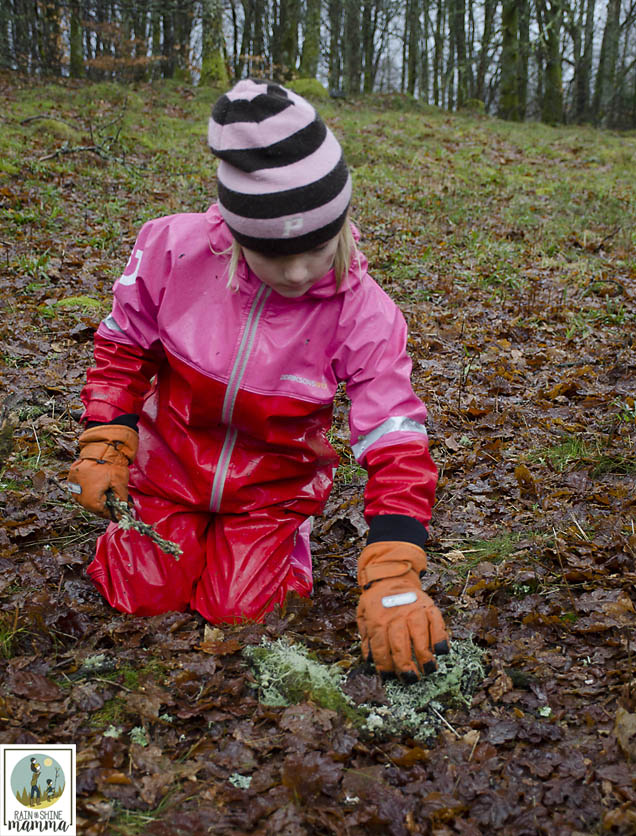 This is how we did it:
Valentine's Day Nature Art
Go to any natural area. We are surrounded by woods, so naturally that's where we ended up, but this can just as well be done on the beach or in a field.
Decide on a theme. I picked hearts because I figured that would be easy, but if the kids want to associate freely around Valentine's Day and come up with their own themes that's fine too. Another option would be to make letters to spell out "LOVE" or "VALENTINE."
Set a time limit. We set out to make as many different hearts as possible in the span of 30 minutes. The time limit was arbitrary and just meant to help the kids focus on the task. In reality we ended up staying longer than that to finish our pieces.
Remind the kids not to harm any living things in order to create their art, for example by only using sticks and leaves that were already on the ground.
Go!
When the time is up, each artist gets to showcase his/her pieces and tell the others about it. Some questions that can start a conversation are: "Why did you choose these materials?" and "What do you like most about this piece?"
Different children may have different takes on this activity. Although I encouraged both girls to make their own creations individually, The Little Naturalist (5) insisted on tag-teaming with me, which was fine. The main point of this activity is to have fun together in nature. Meanwhile The Big Naturalist was initially very hard on herself and her ability to create art from nature. It took a lot of encouragement, but eventually she too was able to shake off her unrealistic expectations and create freely with the materials on hand.
TIP: Land art is a fantastic way for children to connect with nature any time of the year. Don't limit yourself to Valentine's Day – do it any time the kids need a little extra motivation to get outside!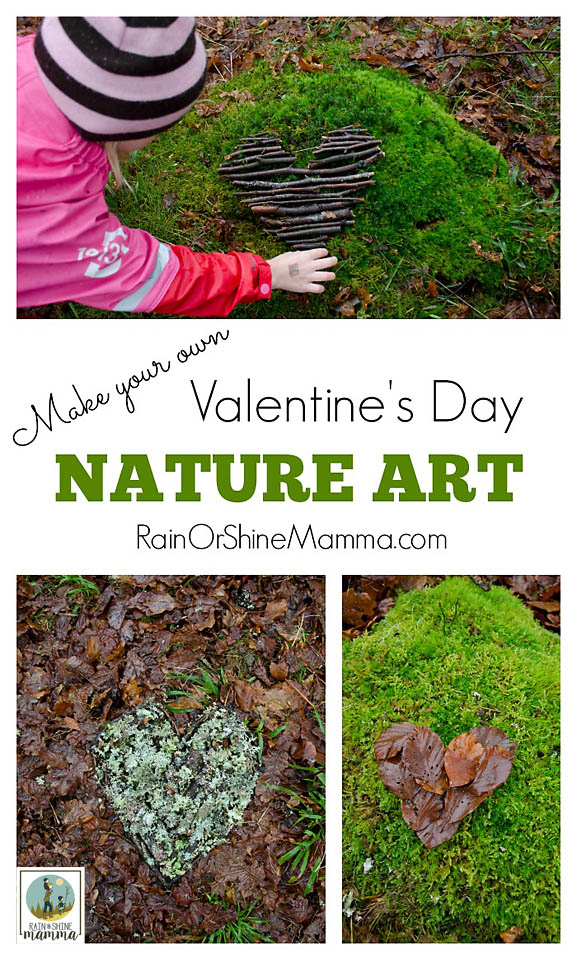 Feeling crafty? Then you should check out some of these upcycled Valentine's Day crafts from some of my favorite fellow bloggers:
Upcycled Heart Valentine Cards from Kitchen Counter Chronicles
Upcycled Craft Idea: Valentine Tin Lantern from Bren Did

Upcycled Tissue Paper Heart Frame from Rhythms of Play
Upcycled Button Wreath for Valentine's Day from The Crunchy Chronicles
DIY Tic-Tac-Toe Valentine from Outdoors Mom
Save
Save
Save