So many books, so little time…Between working, adventuring outdoors and taking care of all the chores that make our household and family life go round, I don't have nearly as much time to read as I'd like. And should I lo and behold have a few minutes to sit down with an intriguing memoir, it usually isn't long before I have to intervene in an out-of-control sibling fight, patch up a scraped knee or inevitably get asked to read the 51st installment of the Magic Tree House books out loud instead.
I know, it's all about priorities and I need to make more time for reading. Summer is the perfect time to do it, since our family life tends to wind down when school is out and the warmer weather calls for a slower pace overall. This year, I've also decided to set my intentions by creating a reading list and sharing it with you. (If you're new to the children and nature movement, make sure to check out my post 10 Must-Read Books for Nature-Loving Parents, which lists some of the seminal works in this area.)
My Summer Reading List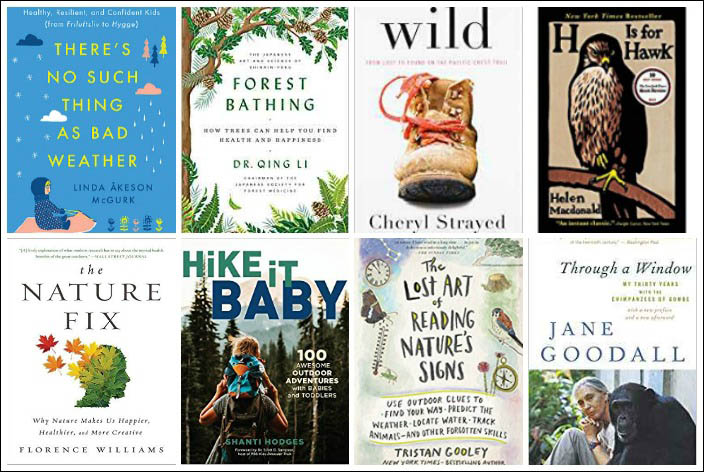 This reading list is a mix of old and new books, memoirs, handbooks and science. Some of them are proven favorites from the past and others I have yet to read, but come highly recommended from fellow nature lovers. I hope they'll inspire you to get outside and enjoy everything Mother Nature has to offer!
As an added bonus, I'm doing a giveaway for two of the books on my summer reading list at the end of this post. Make sure you enter for a chance to win a copy of Hike It Baby and a coupon code for a free audiobook of There's No Such Thing as Bad Weather!
I know I'm tooting my own horn here, but if you haven't yet read There's No Such Thing as Bad Weather: A Scandinavian Mom's Secrets for Raising Healthy, Resilient and Confident Kids (from Friluftsliv to Hygge) I highly recommend it to anybody who has children, works with children or makes decisions that affect children. Part Bringing Up Bébe, part Last Child in the Woods, this parenting memoir tells my story about starting a family in the US and encountering a vastly different parenting culture from the one I knew from my native Sweden. It's a deeply personal narrative that highlights the importance of spending time outdoors, and shows how the nature-rich culture of Scandinavia could hold the key to raising healthier, resilient, and confident children in America.
When new mother Shanti Hodges invited a few local families to go hiking with her in 2013, she had no idea that it would be the start of a community to get outside with babies and toddlers. That community is known as Hike it Baby and today has over 300 branches across North America. In Hike it Baby: 100 Awesome Outdoor Adventures with Babies and Toddlers, Hodges and other hiking parents share some of their best tips and tricks for hitting the trails with little ones, including practical tips for preparing for trail hazards, packing the right gear and keeping the kids happy until you get back to the car. She also shares 100 family-friendly hikes in the US. This is a road map to adventure that will make a perfect companion for your next road trip!
In The Nature Fix: Why Nature Makes Us Happier, Healthier and More Creative, author Florence Williams dives deeply into the reasons why spending time outside is beneficial to our health and well-being. Criss-crossing the earth in search for answers, she participates in eco-therapy for people with mental health problems in Scotland, goes forest bathing in South Korea and explores why the Finnish government is so interested in green spaces as a means to lower public health care costs. If a research-heavy non-fiction book sounds boring, think again. Unlike many other books in this genre, Williams inserts herself in the fact-studded story, making it both insightful and light-hearted.
The interest in the ancient Japanese tradition of forest bathing, or shinrin-yoku, has virtually exploded lately, with at least four books published on the subject in 2018 alone. One of them is Forest Bathing: How Trees Can Help You Find Health and Happiness, a practical guide to spending time around trees and how it can improve our health and mental well-being. As it turns out, enjoying regular walks in the forest can reduce your stress levels and blood pressure, strengthen your immune and cardiovascular systems, boost your energy, mood, creativity, and concentration, and even help you lose weight and live longer.
When Jane Goodall started studying chimpanzees in Gombe Stream National Park in Tanzania in the 1960s, her methods were anything but conventional. While immersing herself in the chimps' community Goodall, who is now widely considered the world's foremost expert on chimpanzees, discovered that our closest relatives in the wild show emotions and behaviors that are strikingly similar to our own. Through a Window: My Thirty Years with the Chimpanzees of Gombe
is part memoir by a devoted conservationist and animal advocate, and part scientific research that tells the fascinating story of wild chimpanzees from within their own community.
Plagued by grief over her mother's death, her dysfunctional marriage and her lack of direction in life, a young Cheryl Strayed embarks on a life-altering solo through hike of the Pacific Crest Trail. Wild: From Lost to Found on the Pacific Crest Trail is a raw, intriguing and brutally honest account of finding yourself in the wilderness, when all you have is yourself and a thousand-mile long trail ahead. You don't have to be a hiking nut to appreciate Wild; it is as much a story about human perseverance in the face of adversity as it is about solo backpacking.
Even though humans have evolved in nature for millennia, we now live our lives mostly indoors, where we have forgotten our ability to "read" nature the way our forebears did to survive. But as author and expert navigator Tristan Gooley shows in The Lost Art of Reading Nature's Signs: Use Outdoor Clues to Find Your Way, Predict the Weather, Locate Water, Track Animals―and Other Forgotten Skills (Natural Navigation), we can still uncover nature's clues – as long as we know where to look. This book includes more than 850 tips for forecasting and tracking in the city as well as in the countryside by observing the land, sun, moon, stars, plants, animals, and clouds.
The perfect read for adult wannabe Girl/Boy Scouts everywhere.
H Is for Hawk is the story of falconer and author Helen Macdonald and the goshawk that she acquires after her father suddenly dies. But Mabel, as she decides to name the hawk, is nothing like the other birds Macdonald has trained, and keeps challenging her mistress in mysterious ways. Fierce and feral, Mabel's temperament mirrors Macdonald's own state of grief after her father's death, and together raptor and human "discover the pain and beauty of being alive" (People).
That's it! What other books would you add to your reading list?
Giveaway!
To celebrate the launch of Hike It Baby on June 1, 2018, Falcon Guides has kindly provided me with a free copy of the book to give away to one of my readers. Plus, Audible is giving away a coupon code for a free audiobook of my book There's No Such Thing as Bad Weather. That means you have the chance to win not one, but TWO of the great books on my reading list! Enter the giveaway in the Rafflecopter below and don't forget to read the terms and conditions. Good luck!