When I first became a mom I knew instinctively that I wanted my daughter to play outside a lot, all year around, just like I had done growing up in Sweden an awful long time ago. But in the American Midwest, where my daughter was born, this didn't seem to be the norm. With my family still in Sweden and the movement to reconnect children with nature in the U.S. still in its infancy, I was left to figure out a lot of things on my own. So what did I do?
I read books. Lots of books.
I read books that explained why children need nature play and how to give it to them. I read books that were inspirational and books that were informational. Books that supported ideas about parenting that I had always had, but hadn't been able to verbalize. And, ultimately, books that helped me in my ongoing quest to raise two healthy, confident and nature-loving daughters.
As usual, I want to share what has helped me on my outdoor parenting journey, with the hopes that it will help you too. What follows is a list, in no particular order, some of my favorite books for nature-loving parents. If you can pick them up at your local library – great! If not, clicking on the affiliate links in this post helps offset the cost of running this blog in a small way, at no extra cost to you. (You can read my full disclosure policy here.)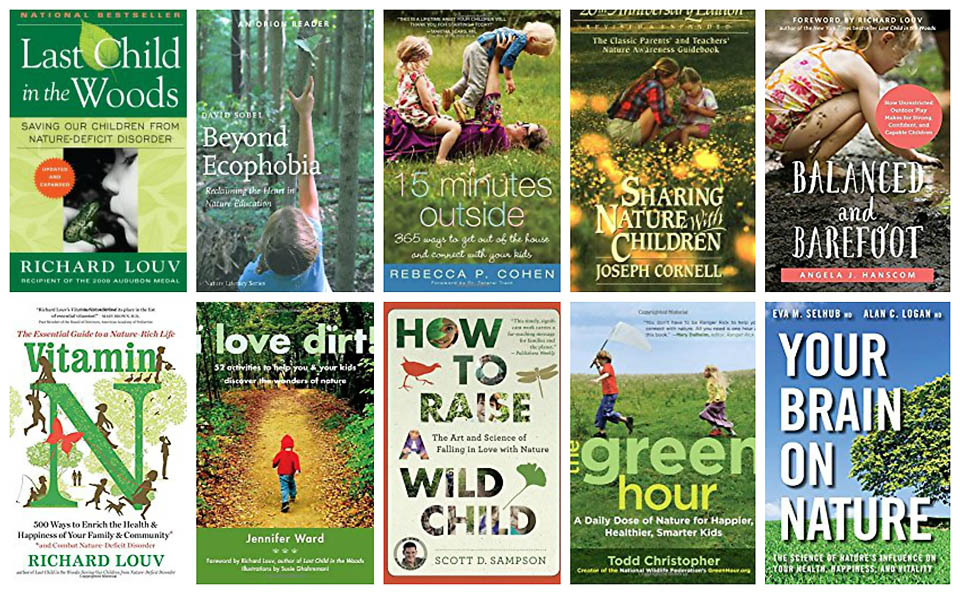 10 Must-Read Books for Nature-Loving Parents
When I picked up a copy of Last Child in the Woods: Saving Our Children from Nature-Deficit Disorder after my first daughter was born, I had a light bulb moment. The book put into words something that I had felt but had not been able to put a finger on – that children today don't spend enough time in the outdoors. In the book, author Richard Louv coins the term "nature-deficit disorder" to describe the human cost of our alienation with the natural world and links a lack of outdoor play to issues like obesity, depression and ADHD. But he also offers solutions and hope for the future. A modern classic that effectively started the movement to reconnect children with nature, Last Child in the Woods has a given place on the bookshelf of any nature-loving parent. (Alqonquin Books, 2008)
Long before the modern children and nature movement saw the light, naturalist Joseph Cornell was exploring nature with children through games and activities, many of which he shares in his book Sharing Nature with Children. The book is full of inspiration and practical advice for parents and teachers who want to help children connect with nature in an authentic, imaginative and hands-on way. The Silent Sharing Walk, Still Hunting and Meet a Tree are a few of my favorite activities from the book. (DAWN Publications, reprint 1998)
What exactly is happening in our children's bodies when they climb that tree or dig their hands in that mud? And how can nature help alleviate some of the sensory issues that have become all too common in children today? Those are just a couple of the questions answered by pediatric occupational therapist Angela Hanscom in Balanced and Barefoot: How Unrestricted Play Makes for Strong, Confident and Capable Children , a book that expertly explains how unrestricted play in nature supports healthy physical, social, emotional and cognitive development in children. You can read more about the book and her take on outdoor play in my author Q & A here. (New Harbinger Publications, 2016)
If you know that spending time outdoors is good for you and your kids, but you're having difficulty finding the time or motivation for it, this is the book for you. In 15 Minutes Outside: 365 Ways to Get Out of the House and Connect with Your Kids, Rebecca P. Cohen explains how committing to go outside every day can change your life. More importantly, it lists suggestions for simple outdoor activities for every month and day of the year, adjusted for the seasons. As the author herself discovered, even if she set out to just spend 15 minutes outside, she often ended up staying much longer. (Sourcebooks, 2011)
Beyond Ecophobia: Reclaiming the Heart of Nature Education is another oldie but goodie. The author, David Sobel, is well known for his writings about place-based education as well as nurturing children's interest in nature, and in Beyond Ecophobia he talks about ways to introduce environmental education to young children. The key message of the book can be summed up in one of his most famous quotes: "If we want children to flourish, to become truly empowered, then let us allow them to love the earth before we ask them to save it." At just 61 pages it's a quick read, but it's worth every minute. (Orion Society, 1999)
I Love Dirt: 52 Activities to Help You & Your Kids Discover the Wonders of Nature by Jennifer Ward has a simple premise: to get more families to enjoy the outdoors on a regular basis. Ward's ideas for outdoor activities cover all four seasons and require little to no materials. In the age of Pinterest perfection and constant pressure on parents to provide "enriching" and "educational" activities, Ward's suggestions are refreshingly simple. Eat outside. Take some toys outside. Watch the clouds go by. Look for moon shadows. Whether you live in a city or in the countryside I Love Dirt is a good reminder that getting outside doesn't have to be difficult. (Roost Books, 2008)
If you like to geek out on research and scientific reasoning for human behavior, Your Brain on Nature: The Science of Nature's Influence on Your Health, Happiness and Vitality is a great read. The authors, Eva M. Selhub and Alan C. Logan, dive into the Japanese practice of shinrin-yoku, or "forest bathing," and explain how technology binging affects our happiness. They touch on diet, landscaping and our relationship with companion animals. Although not specifically focused on the child-nature connection, Your Brain on Nature is my go-to book when I need facts on why being immersed in nature is so good for our mind. (Collins, reprint 2014)
The Green Hour: A Daily Dose of Nature for Happier, Healthier, Smarter Kids by Todd Christopher was one of the first books I bought after I realized that I needed some ideas for things to do outside with my oldest daughter. The book is full of activities, games, crafts, science lessons and fun facts about nature. It's a good resource for teachers, daycare workers, babysitters and parents who want to introduce children to nature play and environmental education but feel that they need some support. As the title implies, the author's goal is to get children to spend at least an hour every day outdoors. To that end, this book can help. (Roost Books, 2010)
How to Raise a Wild Child: The Art and Science of Falling in Love with Nature by Scott D. Sampson is a practical guide for parents, caregivers, teachers and others who are looking to foster a bond between children and nature. Sampson explores why humans need nature, why children are not getting enough of it and how to fix it by mentoring children in nature from an early age to adolescence. In short, How to Raise a Wild Child is great guide book for a parent or educator who is new to nature play and environmental education for children, as it covers all the basics. (Mariner Books, reprint 2016)
Richard Louv's publisher calls his latest book "a complete prescription for connecting with the power and joy of the natural world right now" and Vitamin N: The Essential Guide to a Nature-Rich Life is exactly that. Louv, the unofficial leader of the children and nature movement, draws on his own experience as well as that of many of his readers to make a list of 500 ways to get more nature into the lives of children and adults. It is full of activities, informational websites and advice, but also  stories from people who all try to live nature-rich lives in their own unique way. Prepare to be inspired!
My daughters are past their early years now, but I keep reading books about connecting children with nature. The books can't do the parenting for me, but they definitely help me figure things out.
Have you read any of these books? What books would you add to the list? Let me know in the comments!

Save
Save
Save
Save
Save
Save
Save
Save
Save
Save