Today it's a widely accepted notion that playing outdoors – especially in nature – is good for children. But why? What exactly is happening in our children's bodies when they climb that tree or dig their hands in that mud? And how can nature help alleviate some of the sensory issues that have become all too common in children today? Angela Hanscom, a pediatric occupational therapist who traded traditional clinical work for immersing children in nature through her popular TimberNook camps, answers these questions and many more in her new book, Balanced and Barefoot: How Unrestricted Outdoor Play Makes for Strong, Confident and Capable Children. I was fortunate to get a chance to talk to Angela recently, and get a copy of the book for one lucky reader. Entering giveaways is a special perk for my subscribers, so if you aren't one already, sign up here!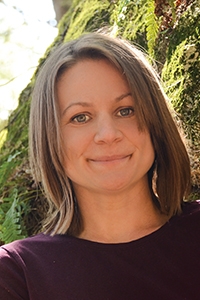 Why did you feel that this book is so urgent right now?
I think it was shocking to see all the sensory issues that are coming more and more, and I felt like this book combines the world of the health field and education, and that's not done very often. When I went to school we were always taught to never do harm in our ethics classes. Now we're at a point where all this [sitting inside] is not good for children, so we need to do something about it. A lot of teachers are also seeing a lot of sensory issues – kids falling out of their seats, weird behavior, trouble with attention – but they couldn't put their finger on why, so when I started explaining to them from a neurological standpoint what was happening, light bulbs went off.
What do you think are the biggest barriers to getting kids outside today?
I feel like fear is the biggest, and that comes in the form of strangers and the typical ones, like bugs, but also of kids getting hurt. Parents are constantly saying 'Be careful' and 'Don't get hurt'. As therapists we're taught that children need to move their bodies and children's neurological system will seek out the sensory input that it needs on its own, so if a child is spinning in circles over and over, they need that input in order to figure out where their body is in space. I'm seeing in a lot of schools the teachers tell kids not to do that, because 'you're going to get dizzy', or 'don't go on your belly on the swings, it's dangerous', but all those are actually things that we do as therapists. We put them in different directions, so they can get the stimulation to form that strong balance system. Also, we're too busy, so busy that kids don't have the time to move.
In your book you give examples of how many hours children of different ages should play outside and it's a lot of hours – do you think it's realistic for parents to provide that on their own or do you see it coming from elsewhere as well?
That's the whole point – children really need a lot of movement, and I don't think we can do it in our current model. We're not doing it well at all. In our current educational system they're sitting all day long and that's not the best way to learn anyway, so that needs to change. It's hard but it's not OK, so we need to do something. When my first article about kids needing to move more went viral, people said 'just stick them on bouncy balls'. They started getting pedal desks and standing desks, and those will help with attention for a little bit but it doesn't fix the underlying problem. They really need to move more and it's going to take a big shift.
You also seem to distinguish between playing in the school playground and playing in nature – what is it that they're getting in nature that they can't get elsewhere?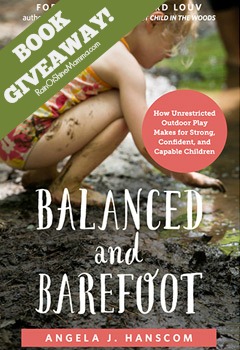 Obviously, being in wild places is going to be more therapeutic. For one, there is no noise pollution. In nature, you can hear the birds sing and figure out where your body is in space. Also, it's going to be more calming, but you're going to be in an alert state. You're going to hear the bird sounds but you still have to navigate the uneven terrain, so it's actually the perfect state for sensory integration to happen.
You also argue that organized sports should be a supplement to outdoor play and not the other way around – do you find that that's a controversial opinion?
Where I live organized sports have all but taken over the lives of the kids here. In the past I remember doing softball and it was like two times a week. Now it's four or five days, just one sport, and it's so competitive. Adults get so intense about it. Through play, they have a choice of how they want to move and it's all child-driven, so again they're seeking out that sensory input that they need. When it's adult-driven, they don't have that choice. I go through it because my daughter plays hockey, we're in that world, and everyone is skating back and forth, you're not going up and down and you're missing out on a lot of senses, so we still need that time. I feel that organized sports are good but it should be an extra. Right now it takes away all of their free time.
Do you have any tips to parents who want to ensure a healthy development in their children by getting them outdoors more?
I feel like there's always a way, beyond the barriers. I just talked to some people who live in our neighborhood and, once again, there's so much fear. There's no trust anymore, we're so separated and immersed in our own lives that we don't associate with our neighbors and I don't necessarily think that's the best environment to raise children. One advice is to make friends and establish relationships with people around you so that there are more eyes watching when you let your kids outdoors, and you don't have to worry so much when your children bike to a friend's house. It takes time to build those relationships and to advocate but it's important.
Don't forget to enter the giveaway below! If you don't win, you can always order the book straight from Amazon
here.
a Rafflecopter giveaway
Disclosure: I received a copy of Balanced and Barefoot from the publisher in order to facilitate this giveaway. You will find my full disclosure policy here.