Recently, the girls and I went camping for a couple of nights in a scenic state park, with a 15-mile canoe trip marking the highlight of the weekend. I had envisioned us leisurely paddling down the quiet river, maybe spotting some bald eagles, turtles and other wildlife on the way, but mostly just enjoying the stillness and oneness with nature. What we actually got was anything but.
Granted, it was a Saturday morning in July and the canoe rentals are extremely busy this time of the year. Red flags started going up as soon as we arrived to the canoe place, where the atmosphere was more tailgating party than bird watching. We quickly slipped our canoe into the water at the packed put-in and started paddling to get away from the crowds. But no matter how fast or slow we paddled, the canoes, kayaks and inner tubes kept coming. And with them came the loud music, the coolers full of beer and the cigarette smoke.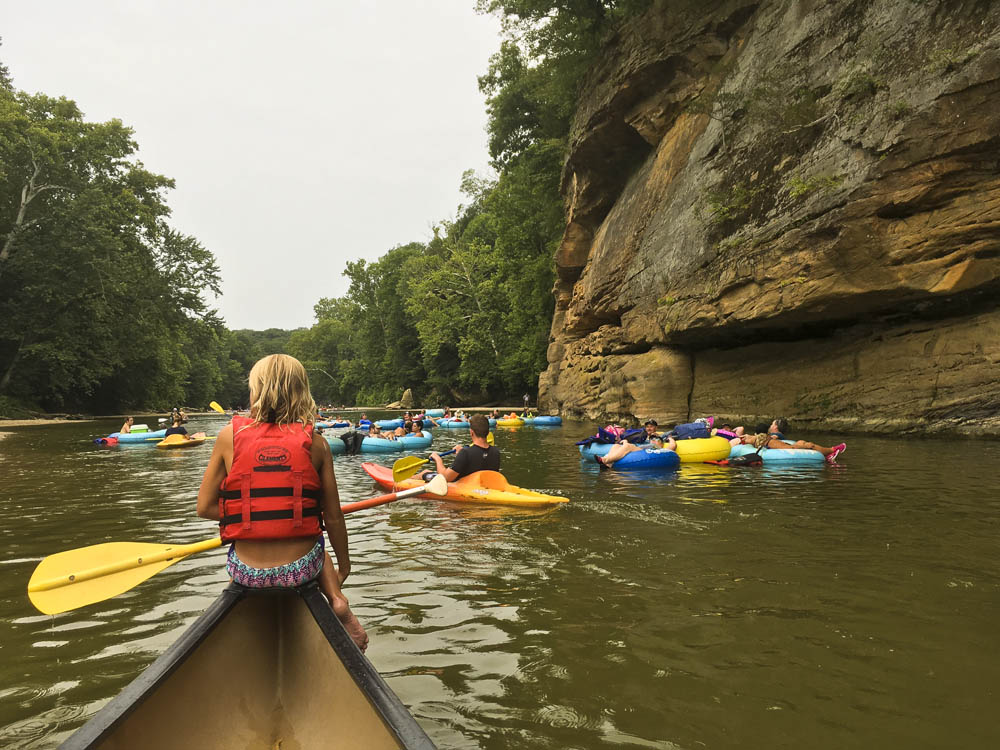 Clearly, a majority of the people – and there were twenty-somethings as well as older couples and families with young children – had a much different idea of a good day on the river than I did.
A few miles into the trip the river widened and we finally had some semblance of stillness, but the peace was short-lived. Soon, we were bumping into other canoes and kayaks again, and in the final five miles of the trip we were completely surrounded by tubes, many of which were tied together like big, noisy islands.
"Mom," my 10-year-old whispered to me, wide-eyed, as we squeezed by another cluster of half a dozen inner tubes, "that guy just shouted 'I'm drunk!'"
At one point, a particularly bad bottleneck had formed by a bridge where dozens of people were hanging out on the water while watching kids who seemed to be about college age jump off a cliff, into a small opening among the array of canoes, kayaks and tubes. A little bit further down, a couple of middle-aged men dressed up as Captain Underpants and a Mountain Dew can respectively were standing on the river bank on our left, drinking and putting on an impromptu stand-up comedy show for anybody who cared to watch. Right about then, a shirtless guy in an inner tube right behind me started blowing a vuvuzela. Soon, another vuvuzela in the distance answered the call, and so an upbeat back and forth exchange started.
At this point I just about lost it.
It was as if a frat party and a European soccer stadium had a baby, got it drunk and let it loose on a lazy river in the forest. Instead of watching wildlife, I felt like we were trapped in a human zoo. To make matters worse, storm clouds were rolling in and the air filled with thunder and a steady rain. While we were paddling faster to get out, more floaters kept joining in.

Now, I'm the first to admit that I've floated down a river in an inner tube before, drinking and hanging out with friends. When I was in my early twenties and lived in Montana, this was a popular pastime for college students in the summertime. And yes, it can be a lot of fun. But that day on the river in Indiana made me realize how much my relationship with nature has evolved over time, especially after having children. Or maybe I'm just getting old and grouchy. Either way, it left me reflecting a great deal on the Scandinavian concept of friluftsliv versus the English word outdoor recreation.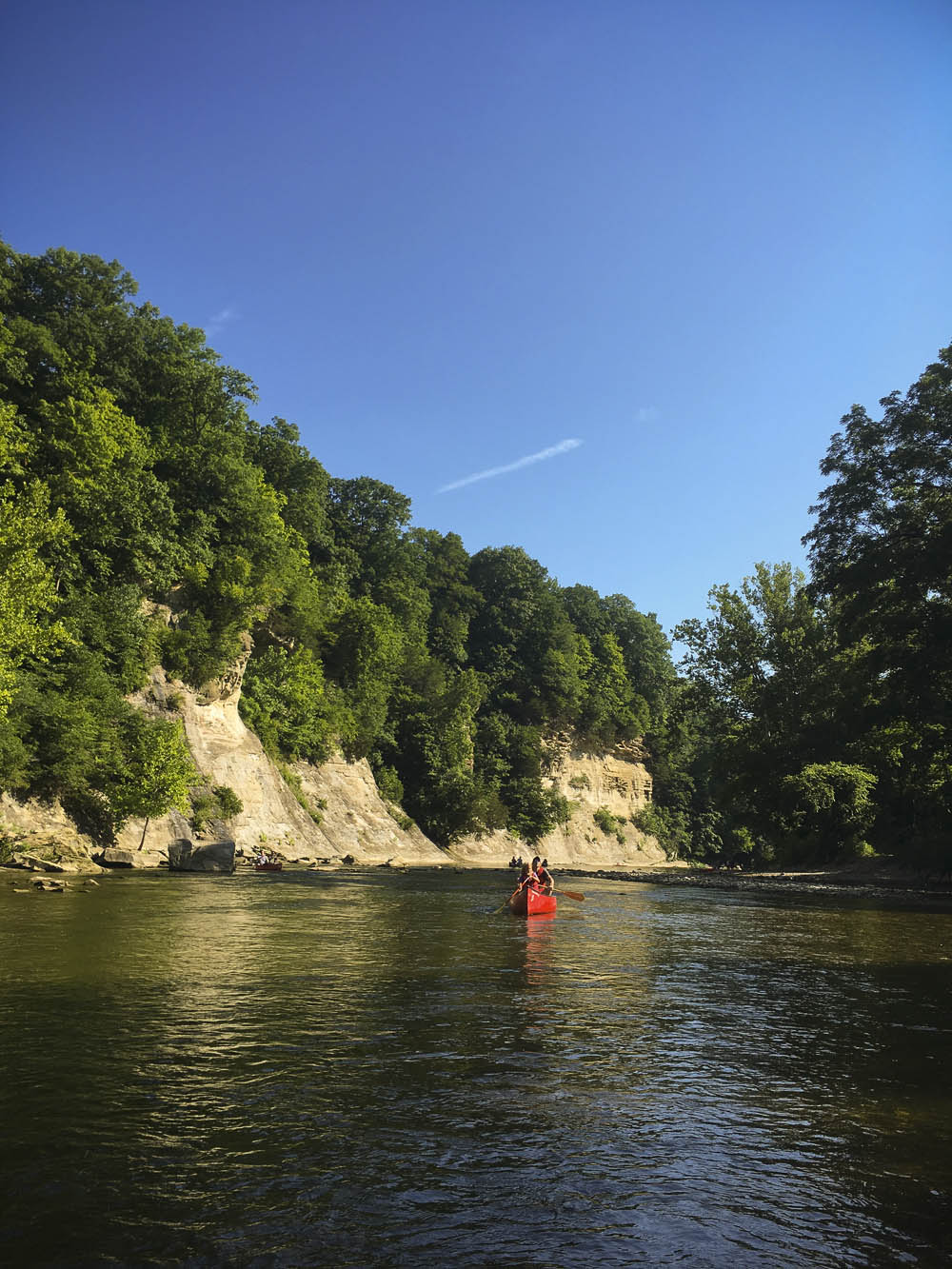 At first, the two terms may seem equivalent, and they're are sometimes used interchangeably. Hiking, camping, fishing, wildlife watching and foraging for mushrooms are examples of activities that fit both the definition of friluftsliv and outdoor recreation. But there are some distinct differences between the two as well.
Outdoor recreation is a broad term that can encompass practically any "leisure pursuits engaged in the outdoors, often in natural or semi-natural settings", including team sports, adventure racing and ATV-riding. Meanwhile, the definition of friluftsliv, which literally translates to "free-air life," is much narrower. Typical friluftsliv activities are non-motorized, non-competitive and don't require a lot of money or equipment. Instead, the focus is on developing knowledge of and finding oneness with nature in everyday life. Friluftsliv is more a mindset and lifestyle than a specific set of outdoor activities and in Scandinavia, this outdoor tradition is passed down from generation to generation. Whereas friluftsliv typically is carried out with minimal impact on the environment, outdoor recreation includes activities that are sometimes at odds with it.
But back to our ill-fated canoe trip. Canoeing and kayaking are normally excellent ways of exploring nature in a meaningful, non-invasive way. The problem in this case was partly that the river was way too crowded, and partly that too many people weren't there for the nature experience, but for the entertainment. Nature just happened to be the scenic backdrop. And without appreciation for nature, there can be no friluftsliv.
I'm not saying there's no room for entertainment in nature, but I think it's really important to examine our motives for pursuing outdoor recreation and what the consequences may be. When a river is turned into an adult playground, nature and those of us who are actually there for the nature experience lose.
Amazingly enough, my youngest daughter managed to catch a glimpse of a large snapping turtle amid the chaos, and as we passed through some of the worst congestion, a groundhog watched curiously from the riverbank on our left. I couldn't help but wonder what was going through his head as the cigarette smoke and the noise from the vuvuzelas dispersed among the trees.