Where we live, corn and soybean fields abound, while woods and other wilderness areas are harder to come by. But, we only have to drive for half an hour or 45 minutes to get to a number of state and county parks, which we often do on the weekends. Better yet, just ten minutes down the road is a small nature preserve that we often go to, and for the days when time is tight we usually just stop by our local city park for a while, so that the girls can play and blow off some steam outdoors.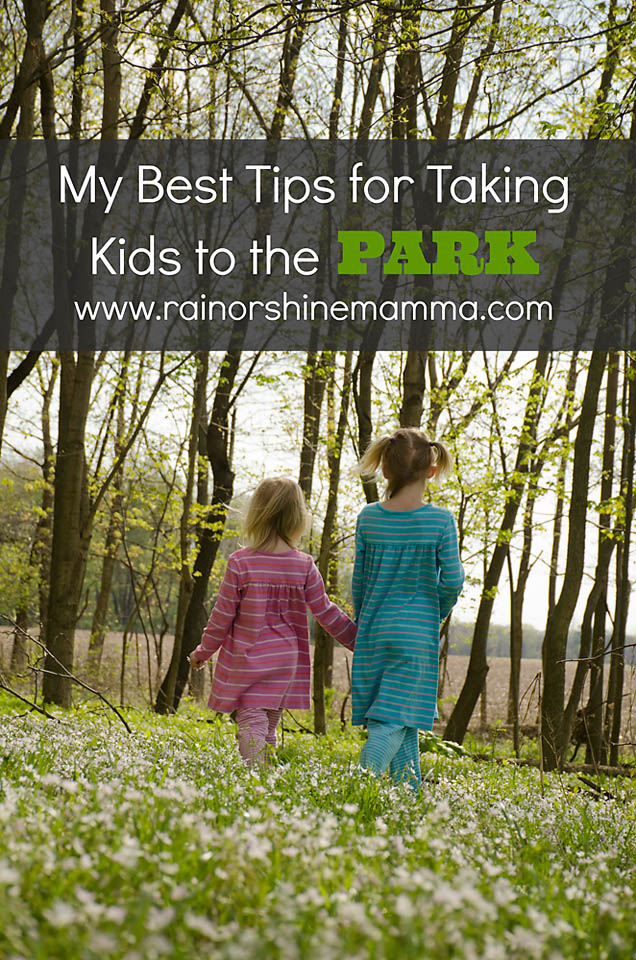 My point is that regardless of where you live, it's possible to find nature – you've just got to know where to look. And parks – whether they're national, state, county or city parks – are a great place to start!
I'm telling you this because May 16 marks the fifth annual National Kids to Parks Day, which was started by the National Park Trust to encourage children across the country to "explore their neighborhood parks and discover science, history, nature and adventure right around the corner or just across town." If you take the pledge to bring the kids to a park on May 16 you will be entered to win a Nikon COOLPIX L830 camera. PLUS, if you enter the giveaway at the end of this post you have a chance of winning even more cool prizes!
Before you head out, read these tips for a successful trip to the park:
Sure, everybody loves going to Yellowstone or Yosemite, but don't overlook the gems in your own backyard. Challenge yourself to visit at least one or two local or state parks that you've never been to this year. Discover the Forest has a handy search engine that can help you find a state or national forest or park near you. Google your state's Department of Natural Resources (or equivalent) for listings of county and local parks, or simpler yet, just use Google Maps and zoom in on the green areas. A little research before you head out can go a long way. Who knows – you may find a new favorite hangout!
I know I probably sound like a broken record at this point, but dressing for the weather is key to outdoor recreation, especially if you're planning on hiking. Forecasts are not always (actually, are they ever?) on the mark, so bring extra layers and rain coats if there are any doubts about the weather. And this probably goes without saying, but make sure the kids wear sturdy shoes and clothes that can handle some tree climbing and dirt digging. If you're not OK with something getting stained, wet and possible torn, it's better to have them wear something else. Believe me, I know this all too well from experience.
During the winter, hot chocolate is my go-to weapon for getting the girls excited to go just about anywhere outdoors. We're a healthy family that mostly eat whole foods and reserve the sugary stuff for special occasions, but when we have picnics I make sure to always pack a little treat that I know the girls will get excited about. Plus, eating outside is a great way to bond as a family in nature!
Let your child take the lead
If you're hiking, let the kids lead the way on the trail, so that they can get a clear view and a sense of being in charge. Make sure to allow plenty of time for frequent stops, as your kids will likely want to stop and look for tadpoles in the creek, scale some big rocks, and chase after butterflies on the way. For more tips on hiking with young children, click here.
This is far from mandatory, since kids tend to find many ways to entertain themselves in parks and nature areas. However, if you're hiking or visiting a park that doesn't have any play equipment it doesn't hurt to have a few activities up your sleeve. It can be as simple as cloud spotting, matching leaves to the right tree or turning over some rocks to see what's hiding underneath. I have more nature walk activities on the blog, or you can visit Nature Rocks, which has a really neat tool that lets you do customized searches for things to do, depending on the weather and what type of outdoor environment you're in.
What are your best tips for a successful trip to a park or other nature area?
Don't forget to enter the giveaway by using the Rafflecopter below. The giveaway is open to US residents only and ends on May 15, 2015, at midnight.
The prize package consists of a "Buddy Bison" mascot stuffed animal, 2 National Geographic Books (National Geographic Secrets of the National Parks and National Geographic Kids National Parks Guide U.S.A.), a CamelBak BPA- and BPS-free reusable bottle, a T-shirt, and a NPT Park Activity Guide. (Total value $75.)