I sometimes get asked under what circumstances it's "safe" to take babies outside in the winter. My answer is usually that winter temperatures rarely pose a threat to a healthy baby, as long as you dress him or her appropriately. On the contrary, fresh air helps young children stay healthy, as they're less exposed to infectious virus and bacteria  outdoors than they are indoors. (In order to keep my lawyer happy I need to add that I'm certainly not a doctor and I don't give health advice on this blog).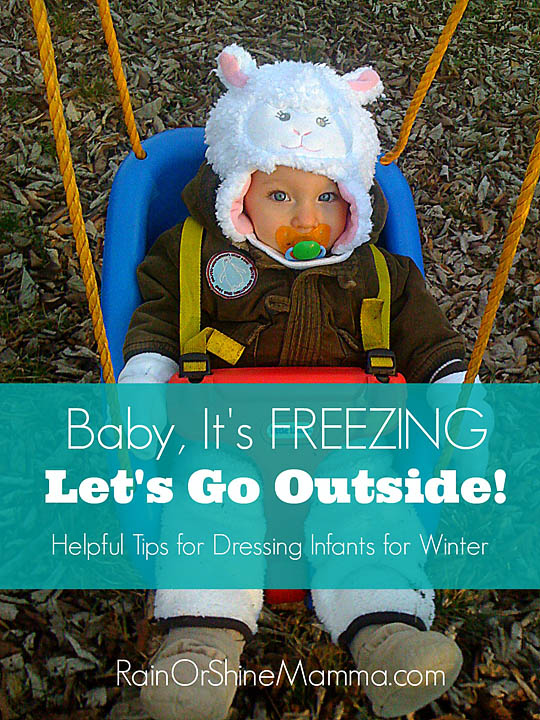 As I mentioned in my post How to Parent Like a Swede  letting your baby nap outside is a common practice in Scandinavia, and according to one Finnish study babies have been recorded sleeping comfortably for long periods of time in temperatures as low as -16 F (-27 C). Whether you've decided to give the outdoor napping regimen a try, or you're just looking to stay active outside after becoming a parent, keeping a baby warm in the winter requires some know-how. Just the other day, I received this question from a reader, Mac:
"My wife loves taking walks with our son in the stroller, and would like to continue through the winter, assuming there isn't too much snow and ice on the roads. Any advice for keeping a one-year-old warm who won't be doing any walking? Spend the money for a bulky (and probably pricey) coat? Or just dress him in a few layers of clothes and use blankets as needed?"
Let's break this question down: First of all, YES, if you live in a cold climate outdoor gear is worth every penny – even for a baby that is not yet walking. Having proper clothes rather than layering with blankets makes you much more flexible when going outside with the baby, and doesn't restrict him or her to the stroller only. You're also prepared should your baby become mobile during the winter.
Winter gear for babies doesn't have to be expensive, it just needs to be warm. Below you'll find my recommendations for keeping baby warm outdoors in the winter.
 For the stroller:
Wool liner. Wool is an amazing material when it comes to keeping both children and adults warm, and there are a few lambswool/micro-suede liners that are specifically made to fit strollers. However, I wanted something slightly bigger and pure wool, so I just bought a baby lambswool like the one pictured to the right. You can find a similar product at IKEA for a fraction of the price.
Bunting bag. When my kids were babies I used a JJ Cole Bundleme Original on top of the wool liner (in fact, the Little Naturalist, who is now four and a half, still uses it from time to time, even though she has really outgrown it). It is affordable, durable and not very bulky. I bought the toddler size to make it last longer. A warmer, but more expensive, option is the Jj Cole Polar Bundleme. With a bunting bag like this you probably don't even need the lambswool.
For the baby:
Base layer. If your budget permits it, a wool base layer is by far the warmest. I really like this Hocosa line from Sofee and Lenee, just beware that these garments should be hand washed. If you don't want to double up on gear, simply use a pajama or other soft and comfy gear. Synthetic materials are fine (and more affordable than wool) but try to avoid cotton if it's very cold, since cotton is not a warm material.
Mid-layer. For the mid-layer I usually choose a fleece jacket and, in very cold temperatures, fleece pants. Another option is a one-piece fleece, like this MEC Ursus bunting suit, which comes recommended from Meghan at The Adventures in Parenthood Project. The cuffs fold over the hands and feet, so you don't need to put on separate mitts and boots.
Outer layer. For their first winter both my daughters wore a one-piece down suit from H&M that was handed down to them from their cousin.
Nothing fancy, but it did the trick. However, there are some really nice bunting suits on the market, and as baby starts walking a well-fitting outer layer becomes more important. Sarah, a.k.a. Rockies Girl, recommends the Molehill Down Bunting Suit for its versatility. To save money on the outer layer, try to buy a large enough size that you can get two winters' use out of it, or try to find a used one. I like to look for marked down closeouts of last year's style as well. I'm also a big fan of Columbia's outdoor wear for children and this Infant Bugababy Interchange Bunting has a detachable fleece liner, which could eliminate the need for a separate mid-layer. The shell can also be used on its own in less harsh temperatures.
Accessories. For babies that aren't yet walking, a pair of simple down booties on top of the socks (again, for very cold temperatures, wool socks rock) work well.

Another great option is Stonz Booties, which can either be worn over socks, or over slippers or shoes. For the soon-to-be toddler crowd, it could be worth investing in a pair of MyMayu's lightweight, water-repellant Muddy Munchkin boots and liners. For baby's head, go with a hat that covers the ears and fastens under the chin. That way, ears will stay warm and the hat won't move around. Cuffs that fold over the hands are the easiest way to keep hands warm, but when that's not an option, or not enough, my next go-to choice would be mitts with long gauntlets that fit over the sleeve of the snow suit, since babies are notorious for not keeping their mitts on. I didn't use brand name mitts for my girls and they did just fine, but if you're looking for something unique and don't mind spending a little more, these Veyo Mittyz are specifically designed for children under five (sizes start at 12 months) and lack thumbs, which makes it easier for the hands to stay warm. Plus, they're adorable!
What are your best tips for keeping babies warm outside in the winter? Please share in the comments!
Disclaimer: This post contains affiliate links. Read my full disclosure policy here.