First, I have a confession to make: Valentine's Day isn't my favorite holiday. Not. Even. Close. Don't get me wrong; I'm all about encouraging kids to celebrate love and practice kindness (and I wouldn't turn down a romantic dinner followed by a sampling of Belgian chocolate for myself). But the candy overload, the commercialism and the plastic trinkets from China that are already broken by the time the kids bring them home from school? It's like Halloween all over again, but without the fun costumes. Thanks, but no thanks.
Fortunately, there are other ways to celebrate Valentine's Day, and as usual when I look for fun things to do with the kids, I turn to nature. Below I've gathered some of the best outdoor and/or nature-inspired valentine crafts, activities and cards from this blog and others. The activities are all outdoors and the valentines are made from natural materials. Most of the valentine crafts are open-ended and give the kids room to experiment and create freely, just the way I like it.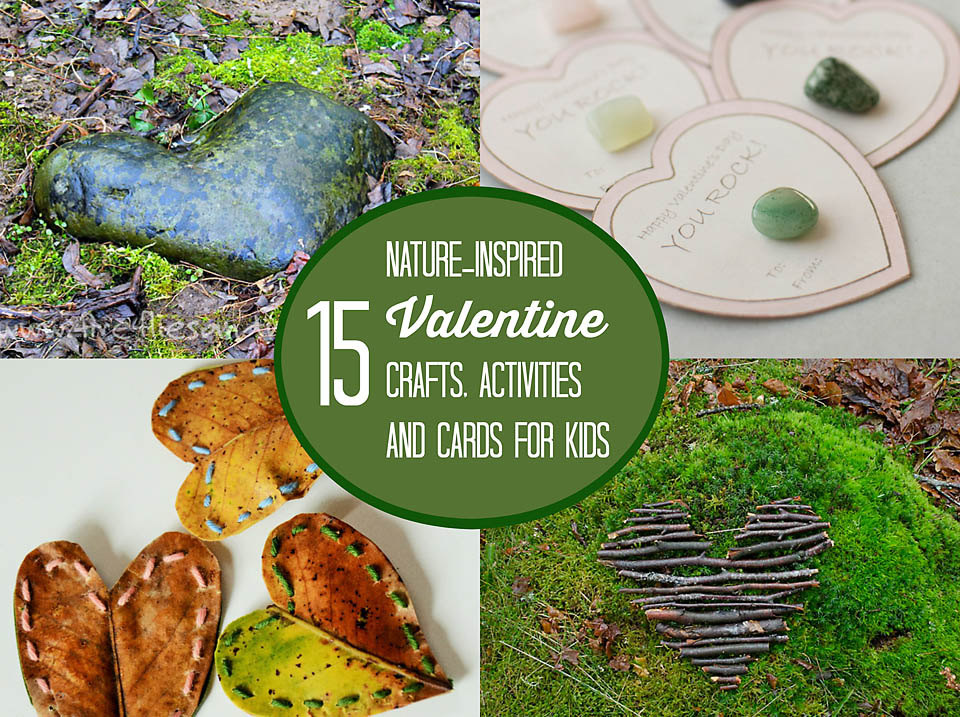 Without further ado, here are 15 of the best nature-inspired valentine crafts, activities and cards for kids:
Outdoor Valentine's Day Activities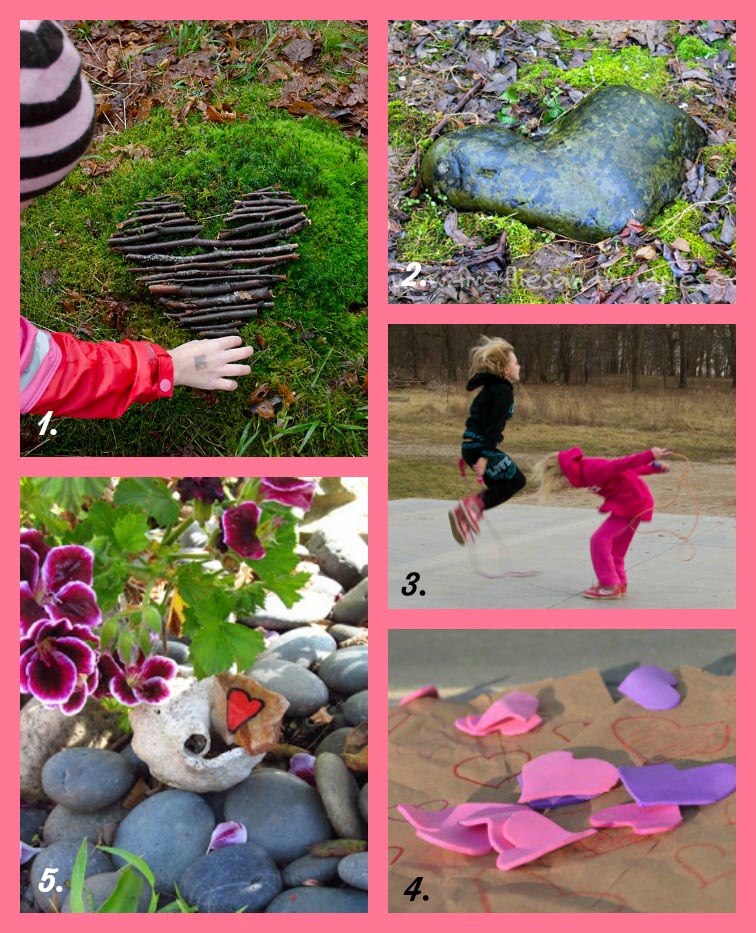 1. Valentine's Day Nature Art from Rain or Shine Mamma
Creating land art is a fun way to celebrate any holiday.
2. Valentine Nature Hike from Fireflies and Mudpies
Nature is full of heart shaped objects. How many can you find?
3. Active Valentine's Day Party Games and Activities from Very Well
A collection of classic outdoor games with a Valentine's Day twist.
4. Outdoor Heart Hunt from Simple Play Ideas
Fun and simple scavenger hunt that keeps the kids active outdoors.
5. Heart Rocks: A Random Act of Kindness from GoExplore Nature
Brighten a stranger's day with these painted rocks left in random places.
Nature-Inspired Valentine Cards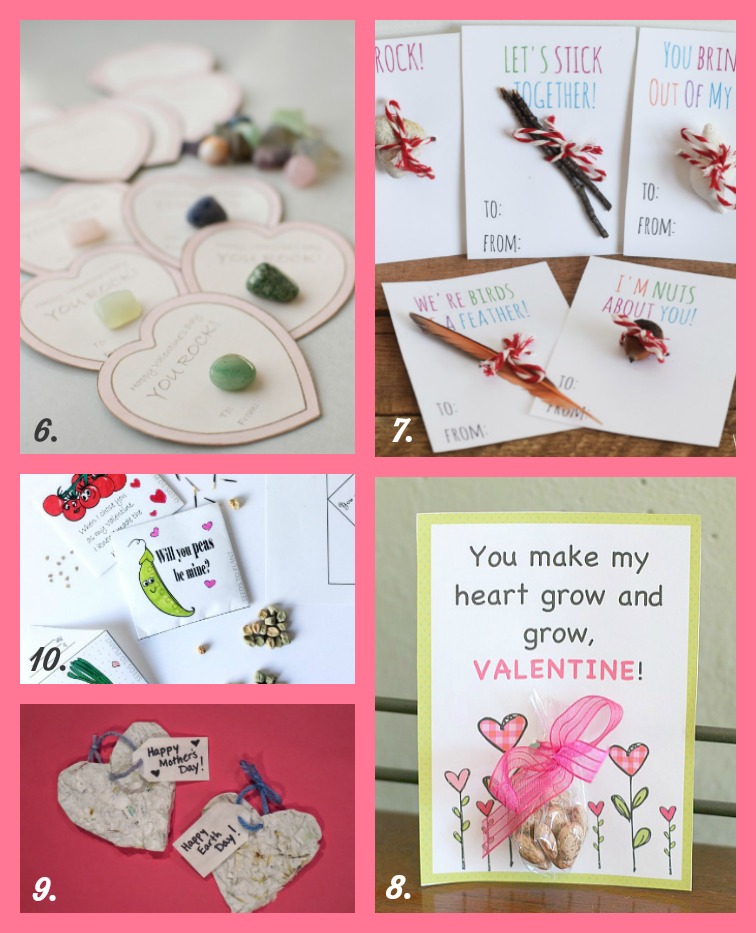 6. Rockin' DIY Valentine Cards from Rain or Shine Mamma
These adorable homemade valentines are bound to be a hit with your child's classmates.
7. Nature-Inspired Valentines from Wilder Child
Use natural objects to create these fun and witty valentine cards for kids.
8. Plant and Seed Valentines from Buggy and Buddy
Homemade, candy-free valentines for budding gardeners.
9. Seed Paper Hearts from Share It! Science News
Recycle your junk mail and make the Earth more beautiful with these seed paper hearts.
10. Seed Packet Valentines from Arts and Crackers
Unique and educational valentines that encourage kids to grow their own vegetables.
Nature-Inspired Valentine Crafts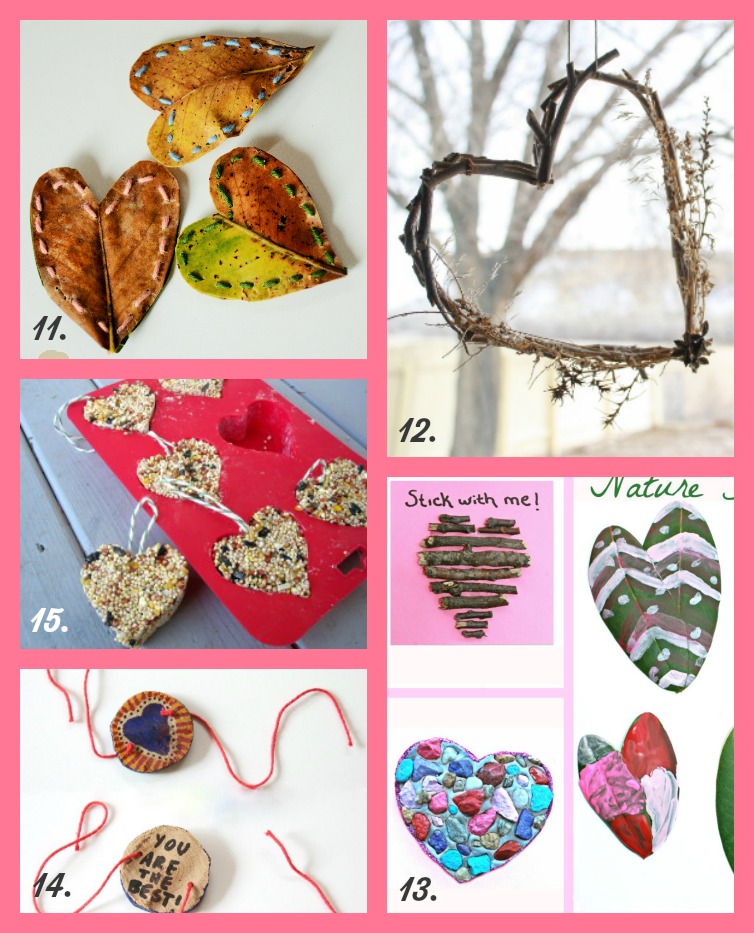 11. Sewn Leaf Hearts from Mother Natured
Gorgeous nature project that helps kids hone their fine motor skills.
12. Nature Hearts from Mud Puddles to Meteors
These nature hearts can be done two ways, leaving plenty of room for experimentation.
13. Heart Crafts for Preschoolers from How Wee Learn
Three heart-themed nature crafts in the same post; the rock mosaic is gorgeous!
14. Wood Slice Bracelet from Mother Natured
These all-natural bracelets make great Valentine's Day gifts for kids.
15. Heart-Shaped Bird Feeders from No Time for Flash Cards
Show your feathery friends some love by making these heart-shaped bird feeders with the kids.
I don't know about you, but after going through and selecting all these valentine crafts, activities and cards I must admit that even I am getting a little bit excited about Valentine's Day. Now, where's that Belgian chocolate?

Save
Save
Save
Save
Save
Save