When you close your eyes and think back at your childhood, what do you see? If you're like me, I bet many of your most cherished memories can be traced to places in the outdoors. Maybe you remember the creek behind your grandparents' house where you built dams and caught tadpoles. Or the beach where you dug your feet deep down in the sand every summer. Or the city park where you and your friends used to gather and play after school. Maybe you remember a special fishing spot, or the backyard where you built snowmen after the first snow.
Author Richard Louv often refers to this as the "place in your heart" that you carry around for the rest of your life, and he argues that these places connect us with nature in a positive and irrevocable way. By bonding with nature this way in childhood, we're more likely to act in ways to protect it later in life.
The place in my heart was the rocky, moss-clad, immense pine forest behind our house in southwestern Sweden, where I spent my childhood playing without adult supervision, long before the term "free-range kids" was invented. I didn't know who owned those woods, nor did it really matter. Because I felt like every square inch of that magical place was mine.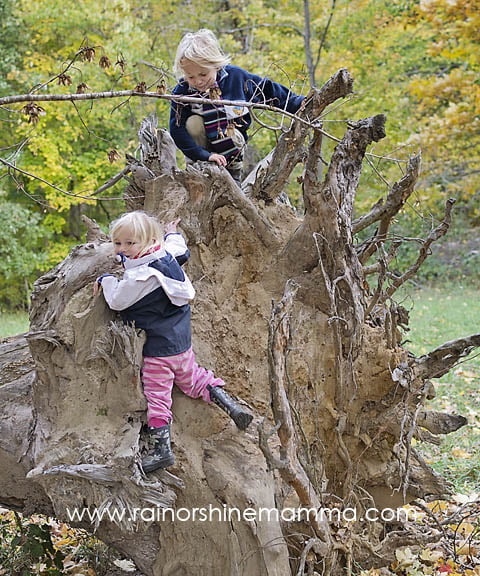 Sadly, many children today don't have the same opportunity to find these places to carry in their hearts the way their parents did. According to author Lenore Skenazy fewer than a third of American kids play outside every day anymore, even though 70 percent of their parents did. She blames electronics, organized activities, the overzealous focus on standardized testing, abduction fear and "educational" toys for killing outdoor play in America. Whatever the reasons, I can't help but wonder what the consequences would be if a whole generation grew up to be essentially nature illiterate, or suffer from from nature-deficit disorder as Louv puts it.
Now that I'm a parent myself, my childhood memories are one of the main things driving me to spend time with my girls outside every day, and trying to inspire others to do the same. Sometimes I wonder which places they will remember when they get older. If I've done my job right, they should have plenty to choose from.
What about you? What were your favorite places to hang out as a child? And have they affected how you raise your kids today? I would love to hear from you!