You know how Google can usually tell when flu season is about to hit when the number of searches on terms like "flu vaccination," "children flu symptoms," and "flu prevention" is skyrocketing? Just like that, I can tell that mud season has struck when I'm getting flooded with questions on how to find the best rain gear for kids. And although I've written plenty about both dressing for cold weather and playing in the rain in the past, I just realized that I haven't provided much in the way of gear tips for kids that will help cover both. Well, better late than never!
Questions to ask when searching for the best rain gear for kids:
Does it protect against the elements? When it comes to rain gear, this is my main concern.
Is it made from a durable material? Ideally, rain gear shouldn't just keep rain out, but hold up for tough play as well.
Does it give the child enough freedom of movement? There's a fine line between spacious enough and too bulky.
Can it be used in multiple seasons? Rain gear that can either be combined with a warm mid-layer or used without is more flexible than an insulated, waterproof coat.
When my kids were younger, finding gear that lived up to my expectations was difficult enough in specialized outdoor stores, and in regular department stores it was outright impossible. Instead, I mostly relied on hand-me downs from Swedish relatives and a few online specialty stores that carried Scandinavian-style outdoor gear for kids, such as Polarn o Pyret USA. Recently, I was really excited to also discover Outnorth, an online retailer that offers worldwide shipping.
I'm partial to Scandinavian outdoor brands, because that part of the world has a strong tradition of outdoor play in all types of weather, which means gear manufacturers over there have a wide range of smart, affordable and high-quality rain gear for kids. Also, I'm simply more familiar with the Nordic brands and feel more comfortable recommending products that I've got personal experience with. Having said that, I've included several non-Nordic brands and outlets in this post as well.
Since children's needs change over time, I've divided my recommendations into three sections: Babies and Toddlers, Little Kids and Big Kids, plus a few of my favorite boots and accessories. Hopefully, you'll find my suggestions useful!
Rain gear for babies and toddlers
For young babies who aren't yet mobile, a good rain cover for the stroller or carrier is usually the best defense against the elements, but once they start crawling around, it's time to start looking for a rain suit. For little kids, I find that one-piece suits are the easiest to put on and are overall the most practical solution.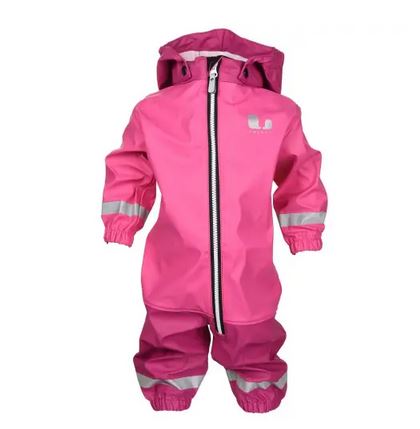 What's to like: Sturdy, high-quality design and made out of 100% polyurethane, giving it a solid waterproof rating of 8,000mm. Long zipper makes it easy to slip baby in and out. The reflective trim helps keep baby visible at all times of the day.
What's to consider: Only available in size 1 year and up.
What's to like: Unlike most brands, Polarn o Pyret offers rain clothes in the 6-12 month size. This set is made from polyester, with a polyurethane lining, which gives it an excellent waterproof rating of 10,000mm. The foot straps help keep the pants in place during active play.
What's to consider: Suspender pants can be unpractical for diaper changes.
What's to like: An affordable coverall made of rugged, waterproof fabric and features sealed zippers and reinforced knees and bottom. Dual zippers makes for easy changes and the generous fit leaves room for more layers. Plus, it's hard to go wrong with 700 positive reviews on Amazon!
What's to consider: Lacks straps under the feet, which increases the risk of the legs creeping up.
Rain gear for little kids
The period between toddlerhood and when a child starts school is an active one, and they need rain gear that fits the bill.
What's to like: Didriksons is one of the most popular outdoor gear brands in Sweden and with good reason. With a 8,000mm waterproof rating, reflective trim, stirrups, a thin fleece lining for comfort and room for layering, this set hits all the marks.
What's to consider: The polyurethane fabric can be susceptible to tearing during rough play.
What's to like: This set from Canadian company Jan & Jul is fleece-lined, making it warmer and perfect for that cooler "in-between seasons" weather. It's got a 10,000mm waterproof rating but is still breathable. The cute patterns are a nice touch!
What's to consider: No straps under the feet is a drawback, especially for younger kids.
What's to like: A thin and flexible rain suit that is perfect for little kids' muddy play and wet days in the forest. These coveralls feature reinforced knees and bottom, reflective trim, and straps under the feet, and the one-piece design is practical for active kids. Designed in Sweden to withstand rough outdoor play.
What's to consider: Some kids prefer a two-piece design, since one-piece suits can feel a bit bulkier.
Rain gear for big kids
Although the classic polyurethane mud pants and jackets are available in pretty large sizes, some children feel like they have outgrown the style by the time they start first or second grade. The trick then is to invest in gear that is both stylish enough for your child, yet functional.
What's to like: This set is windproof and waterproof and, if you live in a cooler climate, can basically be used all year round. The jacket can be layered with a puffy coat for extra warmth and the pants are heavy-duty enough to withstand rough outdoor play.
What's to consider: Polarn o Pyret is one of the pricier brands but if you can swing it, the quality is stellar.
What's to like: Mac in a Sac's waterproof rating of 7,000mm is decent, but its best selling point is clearly its portability. The jacket is very lightweight and comes with its own drawstring bag that easily fits in a backpack. Perfect for older kids who are starting to find rain coats uncool and insist they "don't need" to wear one to school.
What's to consider: The jacket is thin and will need to be combined with a thicker mid-layer on cooler days.
What's to like: Helly Hansen is known for making outdoor gear for extreme conditions and this jacket uses the company's signature material Helly Tech, which is waterproof, windproof and breathable. The jacket is unisex and available in many different colors.
What's to consider: The Helly Hansen rain gear for kids is periodically unavailable on Amazon.
Accessories
A rain suit is only as good as the accessories that it's worn with. Below I've included some of my top picks for rain boots and mittens.