Spring is finally here and what better way to experience the changes that are taking place outside right now than by taking the kids for a nature study in the woods?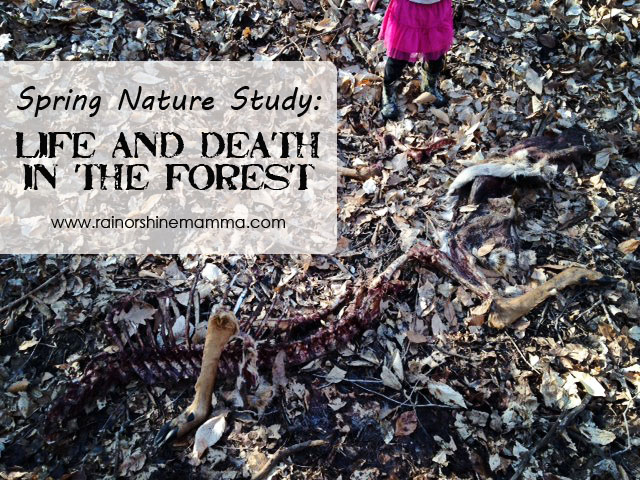 I follow the philosophy and tradition of the Scandinavian forest schools when exploring nature with my kids. That means that our ventures usually are child-led, play-based and open-ended. We rarely go outside with a specific lesson plan in mind – instead we discover the natural world together and use inquiry as a bridge to knowledge. Whatever answers I don't have off the top of my head we look up together when we get home. Teachable moments abound in nature and I enjoy seeing what will capture the girls' imagination each time we go to the woods.
The other day, we decided to revisit a place where we had seen a dead deer a couple of months ago. At the time, the carcass had been fresh, and now I thought the girls might be interested in seeing what had happened to it. This may sound morbid, but nature is very much about life and death, and I don't think we should shy away from that reality when taking our kids outdoors. In my experience, they handle it much better than we give them credit for.
The deer was still there, or at least some remnants of it. We paused and observed the carcass.
"Who do you think ate it?" I asked the Big Naturalist, who is 6.
"Hmm. A fox? Turkey vultures?"
"Yes, that's possible. And probably the coyotes too."
The Big Naturalist was also full of questions. "What is that thing?," she said, pointing at a bone sticking up. "Why didn't they eat the fur?" "Why did the deer die?" "Can I poke it with a stick?"
We spent about 15 minutes observing and talking about the deer, and as we headed back toward the house I thought about all the things that the girls had just learned:
Anatomy: My daughter observed that the deer had ribs and a spine, just like she does, which led to a conversation about the difference between vertebrates and non-vertebrates, common features of mammals and the function of the skeleton. She learned that our bones are our support structure.
Ecology: The death of the deer was a good introduction to the concept of food webs and the difference between prey and predators. Food scarcity, injuries and disease are other causes of death in wild animals that we discussed.
Biology: The odor from the deer gave us an opportunity to talk about decomposition and all the tiny organisms that help clean up a dead animal. Bacteria and fungi are two common types of decomposers.
Philosophy: This particular deer had probably died from disease but we still talked about why animals kill each other and how humans sometimes kill animals for other reasons. The Big Naturalist is aware that there are hunters in our area and I encourage her to think critically about when it is or isn't morally defensible to take the life of another living being.
"I feel sorry for the deer," the Big Naturalist said on a tad sad note as we headed back to the house. It was a touching show of compassion, and once again gave us a chance to talk about the circle of life.
All this learning just from observing a dead deer in the woods for 15 minutes. Could you learn it from a text book? Some of it, sure. But as the old Chinese proverb says:
"Tell me, I'll forget
Show me, I'll remember
Involve me, I'll understand"
Do you ever use nature for teachable moments? If so, how? I'd love to have your input!