Child-led, play-based learning is a cornerstone of forest schools and something that I'm a huge proponent of. Even though I occasionally plan learning activities, for example a word hunt in nature, my agenda is not set in stone and my daughters always help shape the process. The final result isn't always what I had envisioned, but I'm OK with that. I realize that they sometimes learn more by following their own inquisitiveness rather than a lesson plan that is imposed on them. And that's exactly what happened in our driveway recently.
The Little Naturalist had watched me use a wrench to tighten some nuts on her bike, and I noticed that she was interested in the process. "Can I try?" she asked, and I let her. I loosened up the nut so that she could help tighten it again. It was in an awkward spot under the seat that was hard to get to, so I had to help her out. And then: "I want to do more!" "Well, the bike is all done now." "Do we have more of these?" she said and pointed at the nut. "Uhm, I'll look." And that's how the Little Naturalist's tinkering session began. Admittedly, I was caught somewhat off guard by her sudden interest in tools, but knew I needed to find a way to nurture it. So we started digging around in the garage.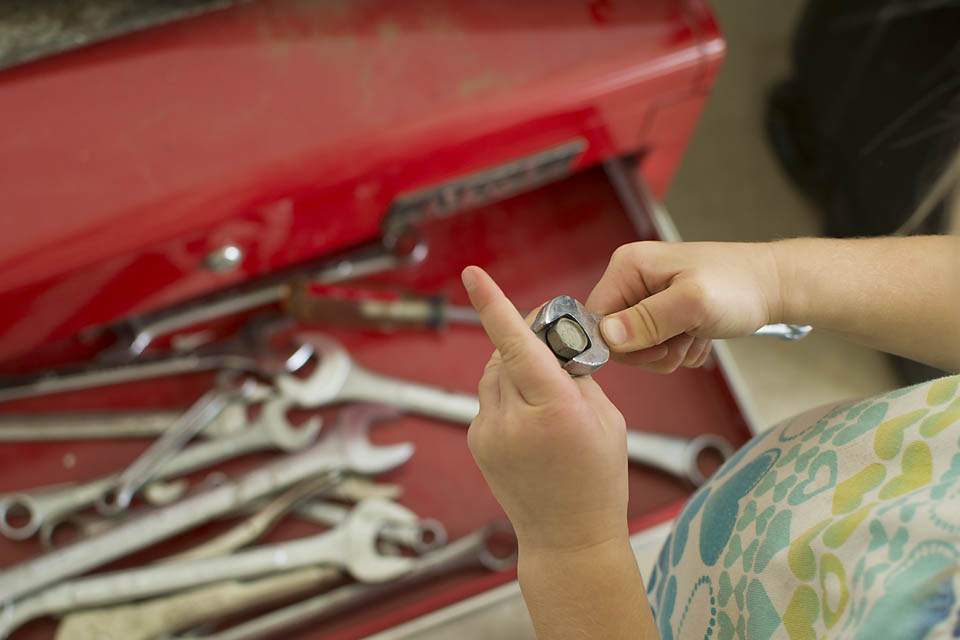 A box of wrenches of varying sizes proved a great place to start. I gave her a bolt and asked if she could find a wrench that would fit that particular bolt. She did.
"I want to screw it in," she said.
I started scrambling for a piece of wood and finally found a block that was thick enough. Using a power drill  I made about a dozen holes in the wood with four or five different bits. Then I grabbed the jar of random, leftover screws and bolts that we keep in the garage in case we'd ever need them for something (yeah, right). I poured out a small pile and gave the Little Naturalist some more tools – a screwdriver with a hexagonal shape and one with a cross shape. Then she went to work.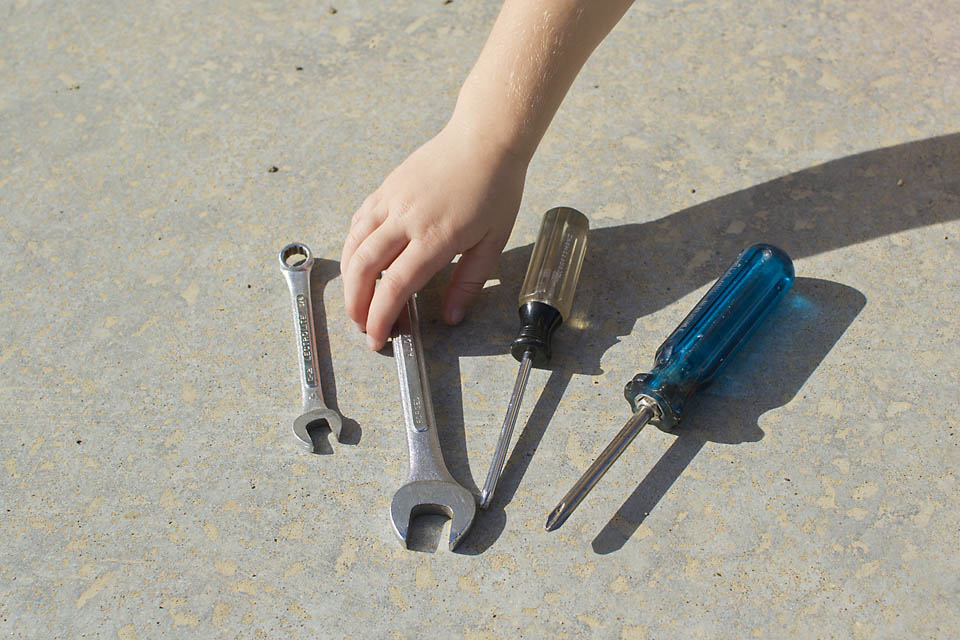 Through trial and error she quickly figured out that some of the screws were too thick and others were too thin to fit in certain holes. But she was also able to successfully screw quite a few of them in. I had to go back several times to make new holes as she kept running out.
The best part of this activity was that she was completely absorbed with it for well over an hour and a half. I rarely see a 3-year-old work with such focus and determination on a single task for such a long period of time. I think part of the reason was that she was allowed to use the same tools as she had seen me use. They were real tools, not toys, and I think that lent weight to the very important work that she was doing.
In all, I loved how the Little Naturalist packed so much learning into this one spontaneous activity:
Problem-solving skills
Fine motor skills
Construction skills
Math (shapes, thickness, length)
Vocabulary
Patience and perseverance
What kind of tinkering activities do your kids enjoy and what kind of tools do they use? Please share your experiences in the comments!