I know, I know, I know. I'm not a food blogger and I don't typically write about cooking. But we've all got to eat, and who doesn't need tasty, healthy trail snacks when they're outside adventuring with their kiddos in tow? Plus, the recipe for these No-Bake Chocolate Cookies that I just came up with was just too good not to share.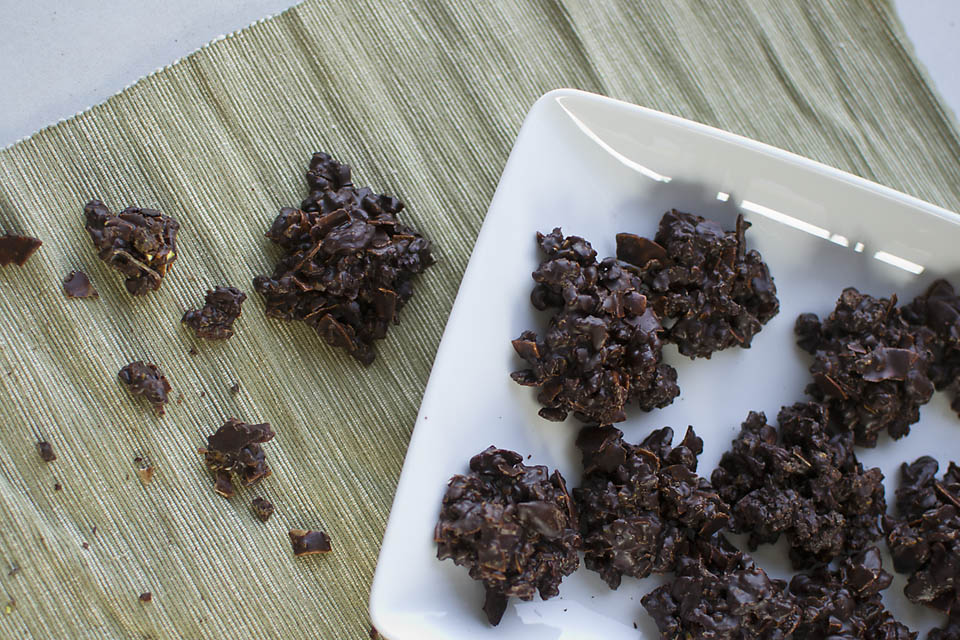 If you've followed this blog for a while, you may have picked up on the fact that I'm a lover of all things chocolate. I shouldn't say all chocolate, because I'm pretty selective, but in general if I'm going to treat myself to something sweet, my choice is some form of sweetened cocoa product. This infatuation with chocolate is a dilemma for me, since I also try to maintain a healthy lifestyle. I eat my fruit and veggies, and exercise daily (most of the time), just to see my efforts derailed by pesky sugar cravings that typically set in after the kids have gone to bed. I've got a feeling I'm not the only one constantly fighting this battle.
Here's the good news: these No-Bake Chocolate Cookies can take care of those cravings, while actually boosting your health. And the bad news? There really isn't any, aside from the fact that you may not be able to stop eating them once you start. These delicious bites of bliss are vegan, gluten-free, paleo-approved and completely portable for all your outdoor adventures. The perfect, homemade trail snack, in other words.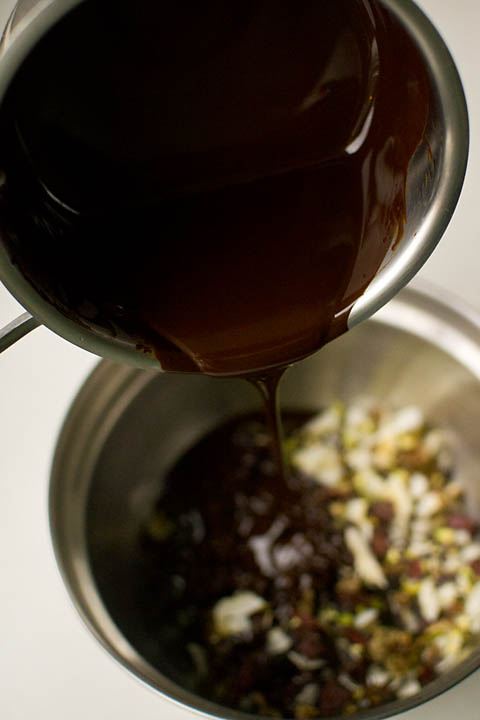 But first, let's make something clear. In order for these no-bake chocolate cookies to qualify as healthy, it's important that you use dark chocolate rather than milk chocolate or white chocolate. Why? Because only dark chocolate is full of powerful antioxidants, which help fight harmful free radicals and can help prevent heart disease. Research has also showed that a daily dose of dark chocolate – but not milk or white chocolate – can lower blood pressure.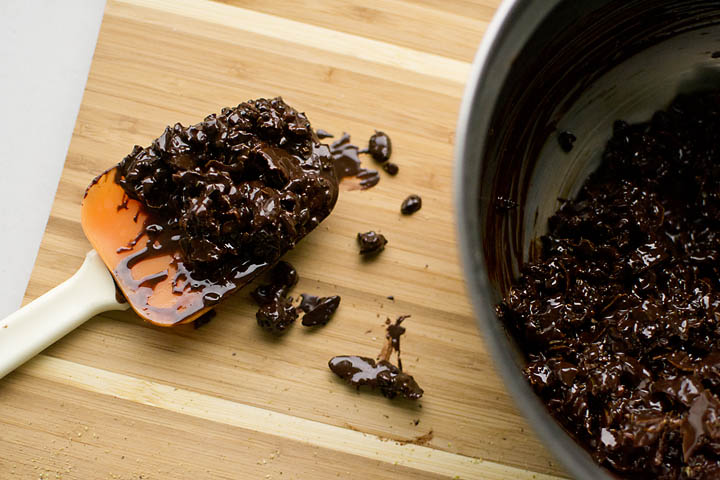 This recipe also calls for cacao nibs, which is chocolate in its purest form (you can read more about cacao nibs in this amazing healthy chocolate snacks recipe), and is chock full of vitamins and essential minerals like iron, manganese and copper. Add in naturally sweet dates, crunchy pistachios, golden-roasted coconut chips and succulent goji berries, and you have a treat that is as super charged with nutrients as it is rich in flavor.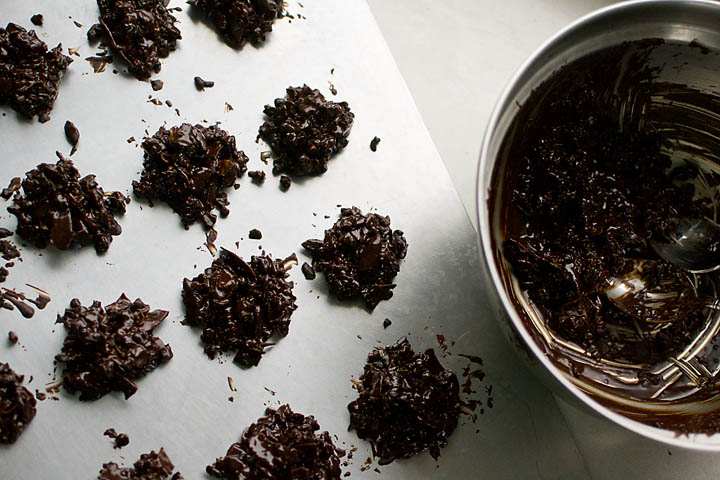 As with any indulgent treat, these are best enjoyed in moderation, which could be a challenge considering that they are HIGHLY addictive. Don't say I didn't warn you…
Enjoy!
Healthy No-Bake Chocolate Cookies (Vegan, GF)
Ingredients
1/2 cup pistachios
1/2 cup goji berries
1/2 cup coconut chips
1/2 cup raw cocoa nibs
3/4 cup dates (finely chopped)
7 oz dark, high-quality chocolate (min. 85% cacao)
1 TBS coconut oil
Instructions
Chop the pistachios and then the dates finely in a food processor. Combine the pistachios, dates, goji berries, cacao nibs and coconut chips in a bowl and set aside. Melt the chocolate and coconut oil stove top on low heat, while stirring continuously to prevent the mixture from burning. (Another option is to use a double-boiler, i.e. melt the chocolate in a bowl that is placed in a pan of simmering water, but this isn't necessary.) Pour the melted chocolate and coconut oil into the bowl with the dried fruit and nut mix and stir until the mix is nice and even. Use a couple of spoons to dole the mixture out on a cookie sheet. Refrigerate for 20 minutes before eating. Prepare to descend into pure bliss!
https://rainorshinemamma.com/healthy-no-bake-chocolate-cookies-vegan-gf/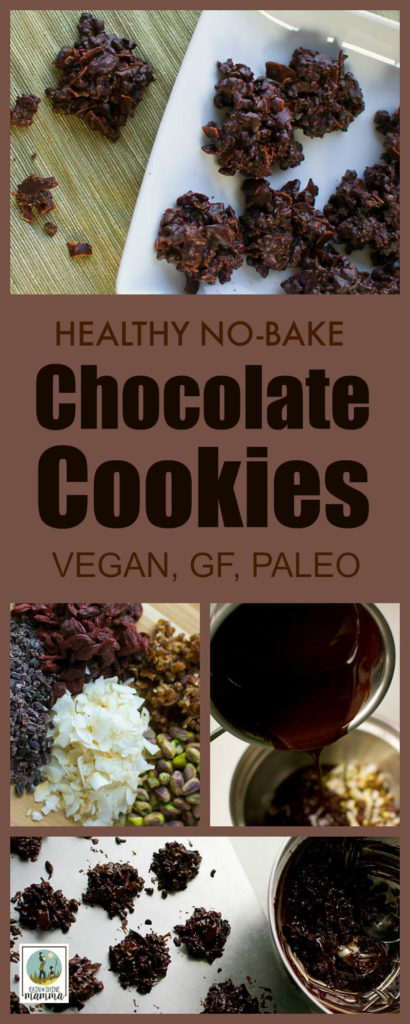 Save
Save