Rainy day activities for kids are often equaled to indoor activities, but there's no reason why kids can't play outside when it rains. (Getting wet may make them cold, but it won't make them sick – this is just a myth.) The benefits of playing outside are many, which is what inspired me to start this blog to begin with.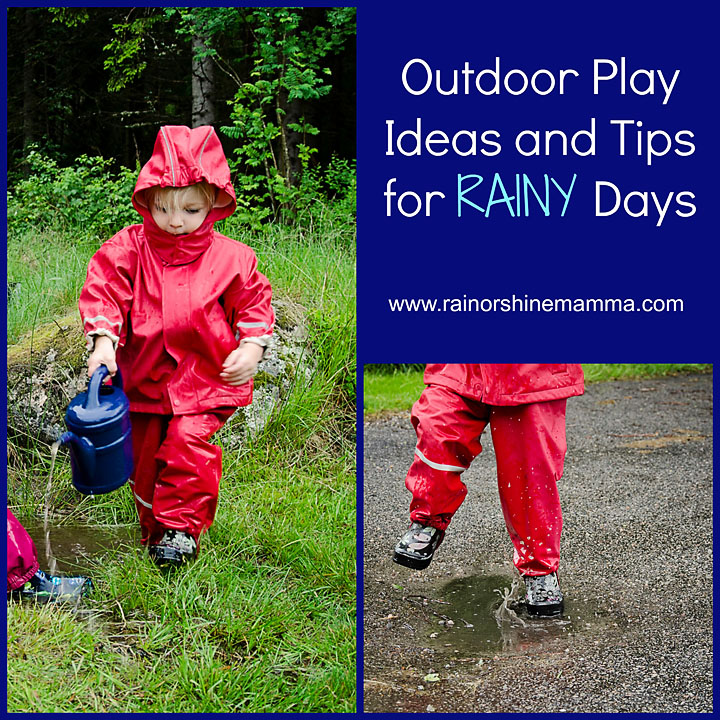 In the American Midwest we usually get a decent amount of precipitation at any time of the year. Rather than looking at this as a negative, I encourage the girls to find activities that can be done in the rain – in fact, some of them require it.
Although rainy day play can be extremely simple, a little bit of preparation and the right gear will help the kids will have more fun and willing to do it again!
These are my best tips for making the most of outdoor play on a rainy day:
Rethink your attitude toward weather. In my experience, most children like playing outside in just about any type of weather. But us adults have a tendency to judge it – and those negative attitudes can be contagious. Since I became a parent I've become more mindful about the way I talk about the weather, especially if my girls are around. Instead of deriding the "bad weather" or saying that it's "too wet" on a rainy day, I might ask the girls if they want to gear up and go check how much the creek in our backyard has swelled.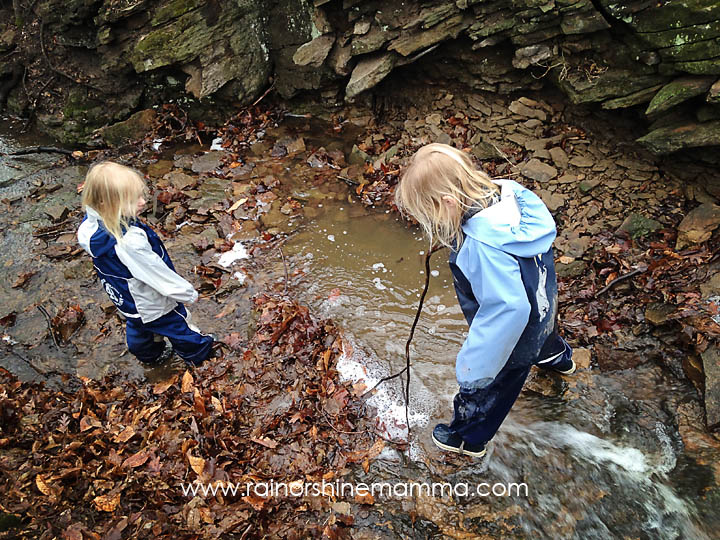 Dress appropriately. Whenever kids play in the rain, expect them to get wet at some point. However, dressing for the weather is key to make sure that they can stay outside as long as possible without becoming uncomfortable. A good pair of rain boots
will keep little feet dry and wash off easily after a mud bath. I'm also a huge fan of Scandinavian-style rain gear for kids. The bib style pants prevent water from leaking in at the waist, and an elastic strap that goes underneath the boots keeps the pant leg in place. Additionally, I highly recommend waterproof mittens in the spring and fall, when temperatures are usually lower
.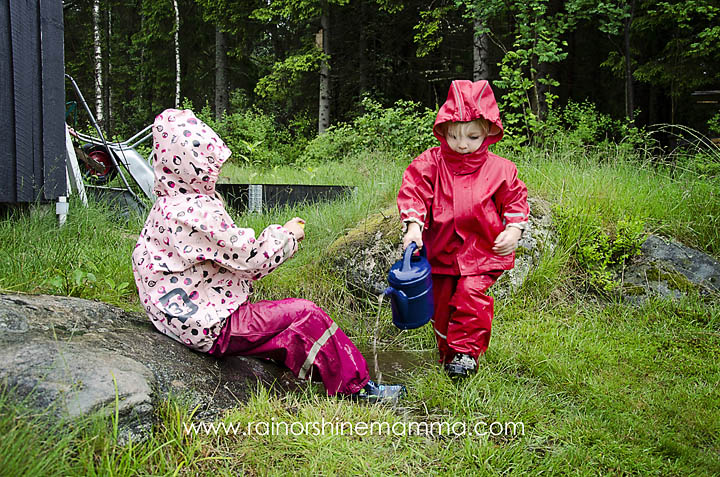 Find fun things to do. The kids are less likely to focus on the inclement weather if they're engaged in play. My girls will usually come up with their own entertainment, if I just give them some time. When I asked them what their top five rainy day activities are, they came up with this list:
Jumping in puddles
Looking for earthworms
Playing in the mud
Collecting and building homes for slugs
Racing leaves in the creek
Another favorite in our backyard is the mud kitchen that I set up last summer. It's nothing fancy; just an old patio table with some pots, pans, plates and utensils, which I either already had on hand or received from friends who no longer needed them. Flea markets are great places for finding affordable mud kitchen accessories.
Sometimes, I just bring out some sand toys – they work just as well in the winter as they do in the summer! For example, my girls love to dig channels in the mud, then sit back and watch as the water flows through the trenches.
Unless you're in a complete downpour, you can even do process art in the rain. Painting with mud is a fun art activity that usually goes over well and does not require very many supplies.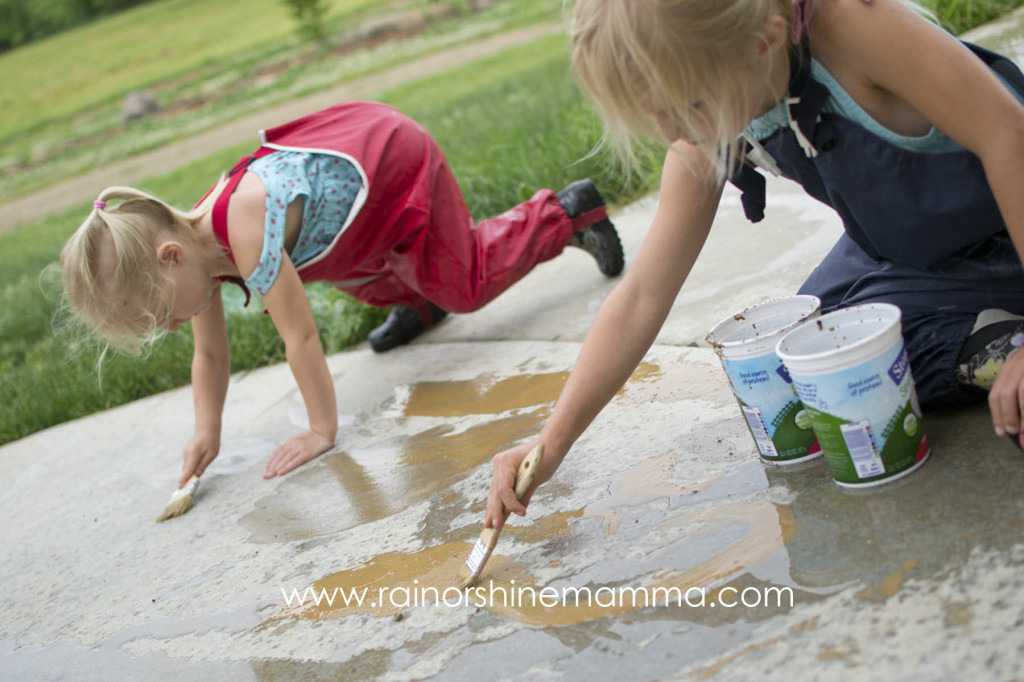 What are your favorite ways to play in the rain? Let's chat in the comments!
This post contains affiliate links.
Outdoor Play Party
At the last Outdoor Play Party I really enjoyed reading Winter Reading and Activity Suggestions from Backyard Learning, a new blog that focuses on outdoor education. Well worth a read, even if you're heading into spring right now. Another great post about finding was the beauty in each season was 5 Reasons to Walk in the Woods this Winter from Pocket Mouse Publishing.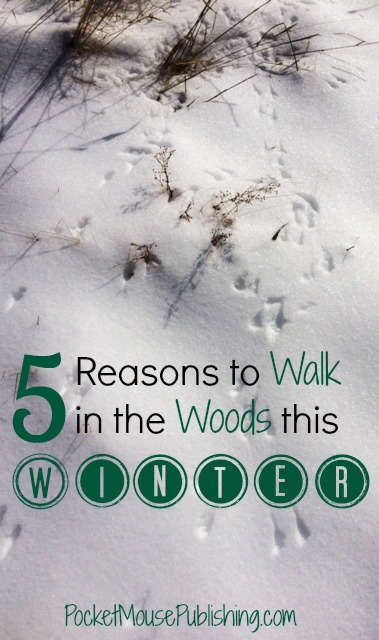 Now it's time for a new party. If you're a blogger, please link up with your ideas for outdoor play activities every other week! We would appreciate it if you included a link back to this post (either in your post or sidebar) to help us spread the word about the importance (and fun!) of outdoor play! In return, we'll gladly further share your post on social media. Please note that by contributing you are giving permission for an image and link to your post to be republished if featured. (If you have been featured, please feel free to grab the 'featured at' button from the sidebar.)