At 3:45 pm on May 25, 2015, my husband and I committed a crime according to the Indiana Department of Natural Resources. Our offense? "Swimming in an unauthorized area." Or, as it in fact were, letting our two children cool off in a creek at a local nature preserve.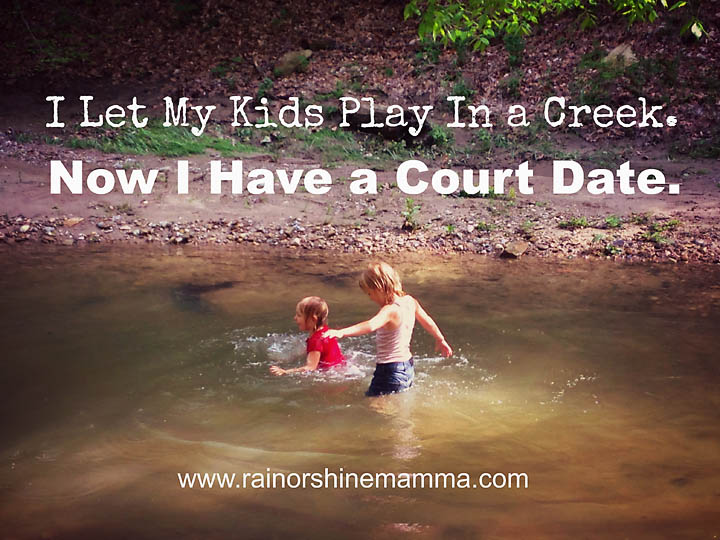 The preserve is just a 10-minute drive from our house, and although it's small, it has both deciduous and coniferous forest, unique sandstone formations and a large creek that meanders through it, eventually feeding into the Wabash River. Years ago, before it was a nature preserve, the area served as a boy scout camp. Despite the preserve's natural beauty, it is sparsely used and even on Memorial Day only a few other families had signed the log book before us.
To a nature-loving parent like myself, who is raising children in a state that is heavy on corn and soybean fields and low on public nature areas, the preserve is an oasis. I've hiked the short loop trail with my kids since they were newborn, and now that they're older we keep coming back on a regular basis – spring, summer, fall, winter. This is to a great extent where their love for nature was first born.
Memorial Day was no different than any other day. Or at least so I thought. We walked down the trail until we got to the spot where a small path leads down to the creek. The girls ran down to the muddy edge and stripped down to their underwear, then plunged into the chilly, shallow water. My husband and I watched them as they were looking at some raccoon tracks, then got into a friendly mud fight. The sun broke through the clouds and a few stray rays danced on the rippling water, while the girls giggled and played.
Half an hour later, we started heading back toward the parking lot. My husband and the Big Naturalist got there first, since I was waiting for the Little Naturalist to climb a rock. When I got there, I saw a brown SUV with the IDNR logo on it, and an officer talking to my husband. Then the Big Naturalist came running towards me.
"Mom, there's a policeman talking to Daddy. He says we can't swim in the creek," she said, her eyes opened wide in disbelief.
The officer went back to his vehicle to write up the paperwork, then returned with a ticket.
"I'm going to let you off easy this time. It may not seem like it, but I really am," he said and explained that rather than adding additional citations for all four of us for "getting off the trail" and "disturbing wildlife," he was only going to fine us for unauthorized swimming.
"But kids used to play in this creek all the time, when this was a boy scout camp," I said, even though I knew that my protest was futile.
"That was a long time ago, before this became a nature preserve. The only thing you're allowed to do here now is walk on the trail. That's it. We have these rules to keep you safe too. There are some loose rocks, and other dangers. The creek is a health hazard as well. Manure from the farms upstream gets in the creek and the kids can get infected with e-coli."
He made it sound like he was doing both us and nature a favor by keeping us separated. Instead I couldn't help but wonder, If this preserve is so delicate that it can't take a couple of kids chasing minnows in the creek, why doesn't the state investigate the source of the agricultural waste? Which is really the bigger threat to the environment?
According to a study from Sweden, where children often play unsupervised in the outdoors, nature can handle some rough-and-tumble, hands-on play. Matthew Browning, a former park ranger who did the research, noted that the places where kids played the most remained functional natural areas, even though the activities weren't necessarily environmentally sensitive by adults' standards. Other studies have repeatedly shown that a common denominator for people who love and care for the environment as adults is that they played in nature on a regular basis as children.

Did I break a rule by letting my kids play in the creek? Sure did. And the rules are the rules are the rules. I'm not saying that nature should be a free for all. Sometimes creeks need special protections because they shelter endangered snail species or rare mussels. That was not the case here. Nor was there a drowning hazard. As far as I'm concerned my kids are more likely to get hurt from falling in the bath tub than they were slipping on rocks in this creek.

I believe one of our most important jobs as parents is to raise children who care about our planet. But in order to do that we can't treat nature like a fine arts museum. We need to let them get in creeks, pick up little critters, throw rocks, climb trees and (gasp!) even pick some common flowers. As Katherine Martinko puts it on Treehugger: "Kids can be hard on a forest if left to run wild and free, but that's the best way to teach them to love nature. And kids' games will never be as destructive as what adults continue to do to the planet."
Browning suggests dedicating certain areas in parks and other natural spaces to free play. He also believes the rules should be more nuanced, instead of basically telling kids that they can't touch anything. It could be as simple as letting them pick some pine cones. I think that would be a reasonable approach at a time when kids have fewer and fewer opportunities for unstructured play in nature.
I'm not worried about the fine, or the court date that we were given in case we decide to fight the citation. I'm worried about the message that this incident sent to my girls. That they're not allowed to interact with nature and if they do, they or their parents will get in trouble.
Sure, I can tell my kids to do nothing but walk on the trail the next time. But if I do I'm pretty sure that they will have no interest in going back to this preserve. And what, exactly, will the IDNR have accomplished by that?
UPDATE: After the overwhelming response to this story, I wrote When Nature Is Off-Limits: Thoughts on My Run-In with the Law at a Nature Preserve to elaborate more on this topic.