As much as I love Christmas I don't like shopping in crowded malls (believe me, I'd rather be hiking in the woods any day) and I don't like the senseless over-consumption that usually goes hand in hand with the holidays. I solve the first dilemma by buying a lot of my gifts online, the second by trying to keep it simple.
This year I decided to change it up a little bit and try a gift-giving philosophy that I've seen online from several sources. It means my kids will get something they WANT, something they NEED, something to WEAR and something to READ. I also added something to DO, since I think the gift of an activity is money well spent. The girls will each get five carefully selected gifts, while I get to keep my sanity = win-win.
If you're looking for gift ideas for your outdoorsy child, check out my suggestions for some fun and useful things below. And don't forget to enter the giveaway for $100 in products from clothing retailer Hanna Andersson at the bottom of this post! If you like children's clothes that are unique, high quality and play-friendly, Hanna Andersson is the place to go. A winner will be chosen on November 25 through a random drawing. Big thank you to Hanna Andersson for making this giveaway possible!
While what they want will vary from child to child, I know my girls will love this Outdoor Explorer Art Kit from Green Rainbow Revolution. Unlike most art kits, it includes a bug check list, an LED headlamp, a magnifying glass and a carrying case, making it ideal for outdoor exploration.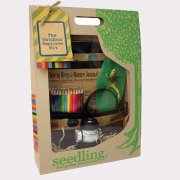 Or, if your kids like bugs, try the AntWorks Space-Age Ant Farm from the Nature Gift Store. Sure, an ant farm could be a great DIY project but you'll never be able to duplicate the coolness factor of the futuristic blue gel that this ant colony comes with.
With the Deuter Kikki Pack from REI, preschool-age children will be able to help carry some of their own stuff when you go camping or hiking together. Practical and adorable!
Or, if camping is on your agenda, consider getting a junior-size sleeping bag for your child to keep him or her warm. For easy summer camping, this sleeping bag from Lafuma has worked out great for our oldest daughter, but there are many other good brands out there as well.
It wouldn't be Christmas in our house if there wasn't a dress from Hanna Andersson for each of the girls under the tree. For the cold season I also really like their Chill Chaser Sherpa Coat, but quantities are running low, so if you want it you need to hurry.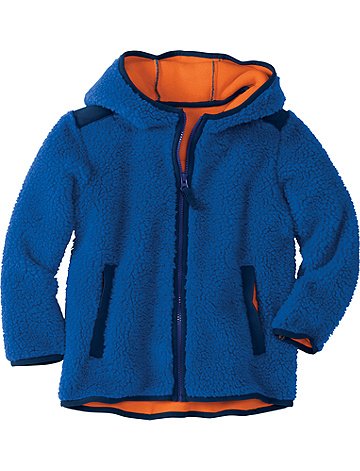 I've also heard a lot of good things about the Kids Rover II all-weather boots from The Original Muck Boot Company. If your kids play in mud and water, these are both cute, comfortable and waterproof.
The books about the Little Humbugs encourage children to protect nature and are beautifully illustrated by the author, Marghanita Hughes. Start with We're the Little Humbugs to introduce your child to the adventures of Jasmine the Butterfly Girl, Nika the Gemstone Collector, Flint the Dragonfly Boy and all their friends.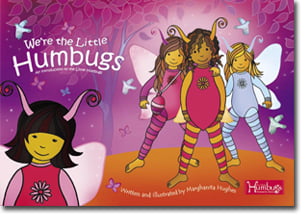 Another beautifully illustrated children's book with a message about keeping the environment clean is Winnie the Pooh Nature's True Colors, which my kids ask me to read over and over again. Available from several sellers on Amazon.
Here's your chance to let your child try a new outdoor activity, whether it's something they've specifically asked to do or something you think they would enjoy. We're going to take our girls ice skating at a local hockey rink (ssshhh, don't tell them!) and since it will be a first for them I'm pretty sure it will be the most memorable Christmas gift of all.
Don't miss your chance to win $100 in products from Hanna Andersson – enter by using the Rafflecopter below. The winner will be drawn at random through the Rafflecopter and will be notified by email.
What would you buy if you win?
Here are some more holiday gift ideas – and several giveaways – from my outdoor family blogger friends: