The holidays are quickly approaching and with that, things are about to a little craaazy. I have a Thanksgiving meal to plan, a kindergarten Christmas party to host, a house to decorate, a holiday gift guide to write and of course some holiday shopping for my own family to get done. I've got a feeling many of you can relate. (And if you do, make sure to read 5 Fool-Proof Ways to Beat Holiday Stress and Truly Enjoy the Season.) At the same time, I really don't want to give up on the things that I usually do, like taking my girls for an after-school hike or spontaneously cook a meal outside just because we like to stand around the fire.
That's why, in the midst of the build-up to this holiday madness, I'm doubling down on my commitment to get outside with my family every day. And I've got just the right incentive for you to join me – an Instagram contest with a giveaway that is nothing short of fantastic!

I've joined forces with a network of fellow outdoor family bloggers to round up over 30 awesome prizes from our very generous sponsors. This is my way of thanking you, my loyal readers and friends, for following along over the past year. I challenge you to take a break from whatever you're doing and go outside with your family, snap some pictures and enter the giveaway. Who knows, you may even win a little holiday gift for yourself!
So without further ado, here are the instructions for how to enter to win the 3rd Annual #OutdoorFamilies Network #ThankfulForFamilies Instagram Photo Contest & Giveaway!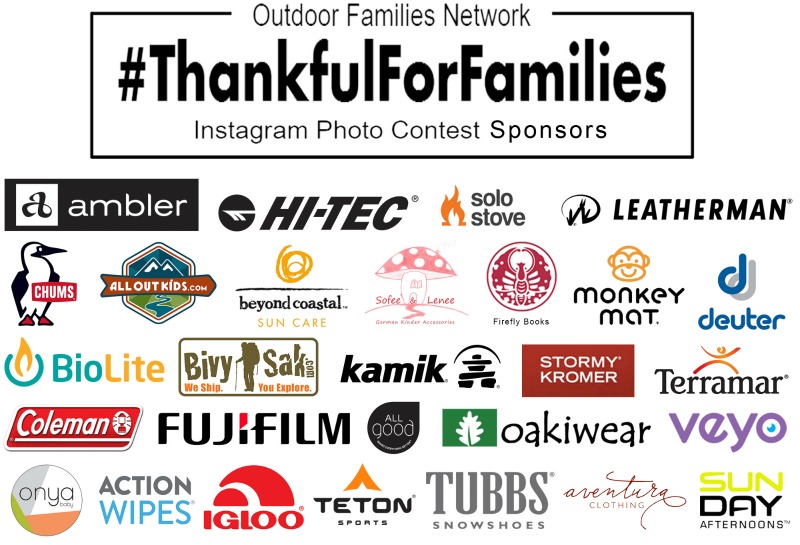 Steps  to Enter the Annual #ThankfulForFamilies Instagram Contest:
1: Post a NEW & ORIGINAL photo of your outdoor family making sure to include both #ThankfulForFamilies AND #OutdoorFamilies and tell us why you love your family in the caption!
2: Follow the awesome participating host(s) and sponsor(s) of the prize(s) you want to win! (Search the hashtag #TFFPrizes2016 on Instagram to see a full list of all our participating hosts, and find THEIR awesome prizes in their feed!)
3: Check out ALL the awesome giveaways and make a COMMENT (one per photo) on the prize(s) you want to win!
You can post one photo per day on YOUR Instagram feed for more entries from Nov 7th – 13th. Just don't forget to tag them with #OutdoorFamilies AND #ThankfulforFamilies!
*This giveaway is in no way sponsored, endorsed or administered by, or associated with, Instagram.
Giveaway entry rules:
Contest will run from November 7-13, 2016.
Entrants must be a resident of US or Canada.
Entrants' Instagram account must be a public account.
Entrants MUST follow the participating host(s) and sponsor(s) of the prize(s) they wish to win on Instagram.
Entrants must post a new, original, and taken by you photo (a re-posted photo or tagging an old photo will disqualify you) to Instagram of their family, or members of their family, outdoors.
All photos entered in the contest must be tagged with BOTH #OutdoorFamilies AND #ThankfulForFamilies.
Entrants must comment on Instagram on the specific prize they are entering to win. Photographs of prizes will be distributed among all the hosts' Instagram feeds. Entrants need to only comment ONCE per prize. Additional comments DO NOT equal additional entries.
Entrants may post a photo once per day to their Instagram feeds for additional entries, up to  7 entries total. All photos must include #OutdoorFamilies AND #ThankfulForFamilies.
All photo entries must be submitted by 10 pm MST on November 13th.
All winners will be chosen randomly from all submitted entries at the end of the week and announced in the comment section of each winning photo on Instagram after November 21, 2016. If prizes are not claimed within 48 hours of notification, the prize will go to the next winner.
This giveaway is in no way sponsored, endorsed or administered by, or associated with, Instagram.


What you can win:
**PLEASE note prizes have various shipping capabilities which are described below**
Participating Hosts (who worked hard to round up these great prizes!):
*Make sure you check out all of these great resources!*
Save
Save
Save