Weather is something we encounter every day, and (at least if you're Scandinavian!) talk about often. Yet we don't always think about the way weather works. What makes water flow and where is it going? What makes a season? And why do things fade in the sun? Whatever the Weather: Science Experiments and Art Activities That Explore the Wonders of Weather (Roost Books, 2016), a beautifully illustrated book by Annie Riechmann and Dawn Suzette Smith, answers these questions and many more. I've known Dawn from her and Annie's blog Mud Puddles to Meteors for quite a while, and have followed her process with writing the book with great interest, so when she asked me if I wanted to do a review of the finished product I was thrilled. I had a feeling it would be right down my alley – and I was right!
To be perfectly honest, there are a TON of books about science experiments for kids on the market. What makes Whatever the Weather special, in my opinion, is that it marries nature, science and art in a seamless way. Divided into four sections, one for each season, the book contains 32 unique art and science activities (you'll be able to download one of them, the Leaf-Rubbing Pinwheels, further down on this page) that all connect to different weather themes. Fortunately for me and other parents who feel challenged in the natural science department, each activity is accompanied by a section called "Science behind the Scenes," a cheat sheet of sorts that will help answer questions that will undoubtedly arise during the activities.
A few of the activities, like the Nature Paint Brushes and Solar Prints, I had seen before, but the vast majority of them were new to me. The fact that the activities are organized around the seasons makes it easy to use the book all year round and select what to do based on the weather. I think several of the winter-related activities, like the Winter Fairy Castle and Growing Icicles will be a great way to motivate the kids to get outside come winter.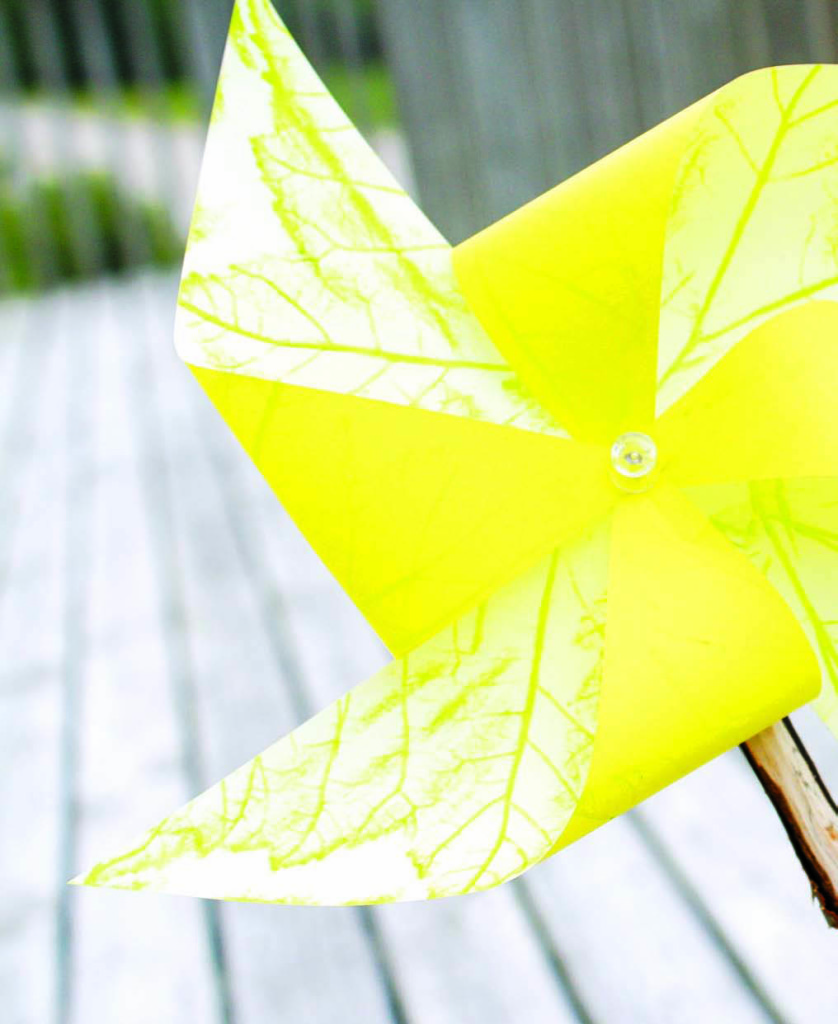 To sum it up, I think Whatever the Weather is as fun and educational for adults as it is for kids. I think it is a great book for early childhood educators, homeschoolers, elementary school teachers and parents who like to get outside and explore with their children. Dawn and Annie are passionate about connecting children with nature, and it shows throughout the book. And of course it goes without saying that I love the title!
To enter the giveaway for a copy of Whatever the Weather, first subscribe to my email updates here. If you're already a subscriber, good for you! You can skip this step. Then enter the Rafflecopter below. If you don't win but think your kids would love the book, you can order it here. If you would like to try before you buy, you can download the full instructions for the Leaf-Rubbing Pinwheels here.
Good luck!
Disclaimer: Roost Books kindly provided me with a copy of Whatever the Weather for the giveaway, but as always I only share products that I personally use and love. This post contains affiliate links. Read my full disclosure policy here.
Save