Many times since I started the journey of promoting outdoor play and connecting children with nature, I have wished that there was a film that I could put in the hands of those who don't "get" it, and just ask them to watch it. Well, now there is one! In NaturePlay, a Danish/American film-making couple set out on a journey to Scandinavia, searching for a cure to the rampant standardized testing, or what they call the "virus" that has infected the American school system. What they find is a culture that prizes unstructured, risky outdoor play, loose parts and child-led learning.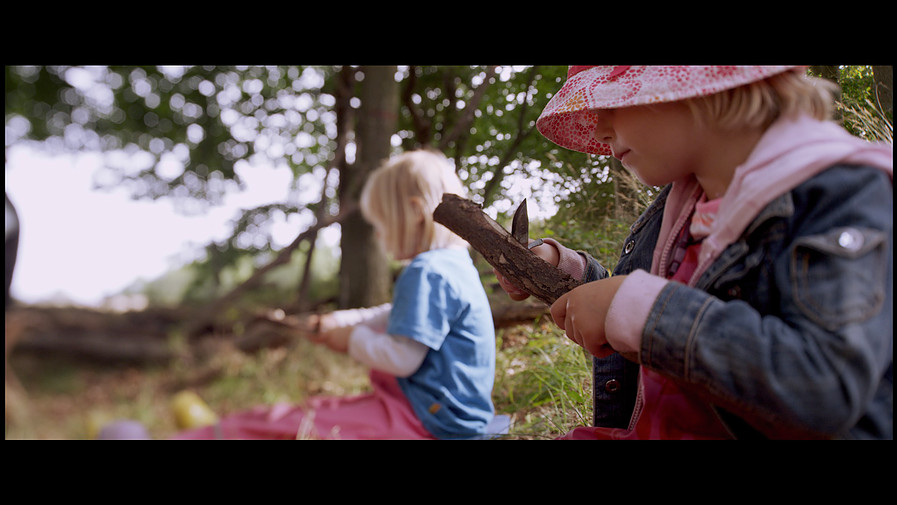 The filmmakers, Daniel and Aimie Stilling, have done their homework. They visit forest schools, adventure playgrounds, public schools, natural playgrounds and the homes of regular Scandinavian families. They interview researchers, teachers, parents, nature guides, landscape architects and  politicians. And everywhere they go, a common Scandinavian parenting principle makes itself heard: Children belong in nature, and nature belongs in education. Throughout the film, this experience is contrasted with childhood in the U.S., where testing, homework and structured activities consume an ever-larger share of children's time. Maybe the comment of one of the Danish parents sums up the film's premise best: "Happiness spurs innovation, testing doesn't."
The Stillings, whom I had the pleasure to meet up with in Copenhagen earlier this year, have made NaturePlay themselves, from filming to post production, and it is obvious that it was a labor of love. After showing it at a number of film festivals, they are now in the initial stages of releasing the documentary to the American public through conference, university and community screenings. To find out how you can set up a screening, visit the NaturePlay website. You also have the chance to win your own copy of the film at the end of this post. As usual, you need to subscribe to my email updates to enter.
Make sure to watch a sneak preview of the film and get the inside scoop on this film in my interview with Aimie Stilling below!
Tell us a little bit about how this film came about?
We decided to enroll our daughter in a Danish forest kindergarten to develop her Danish language skills. Exposed to the Scandinavian education/play philosophy we realized its uniqueness and success in producing innovative, creative, and healthy adults. Since we are filmmakers, it made sense for a film to sprout out of that experience. When we arrived back in the USA we were dismayed at the high-stakes testing and lack of recess time in most schools. The film's antagonist made itself known. Everywhere we heard about children stressed and hating school, parents desperate. We detoured, exploring options for our child while trying to manage the film-making process.
How has it been received so far?
We have seven awards so far, including a Global Humanitarian Award. At our world premiere in Greece we received six offers of international distribution which is unusual for a documentary right out the gate. We have interest from multiple countries all over the world – most interestingly China – a country known in the past for its crushing testing regimes. Surprisingly it's waking up and realizing the mistakes of high-stakes education practices. We are also working hard at strengthening global impact partnerships with like minded organizations like the World Forum Foundation, EmptyClassroomDay/Dirt is Good, Natural Learning Initiative and the Save our Schools Coalition.
What is the most important message that you hope viewers take home from watching the film?
A Child's Right to a "Good Childhood," free of abuse, full of joy and play, while being supported by developmentally appropriate practices in education and policy making.
Why do you think this is such an urgent message right now?
We are in turmoil in our violent society and in conflict in our relationships with every other species on this earth. Why is that? We always treat the symptoms but not the cause. If we have sensitivities in the way we raise our children and treat them with humanity, then all the pieces will fall into place. Empathy breeds empathy – towards each other and this planet. We need to devise ways to save humanity's connection to nature in the next generation.
Finally, you are raising your own daughter in the U.S. – how has spending time in Scandinavia affected your parenting?
I was a total helicopter parent with my daughter until forest school, somewhat as a result of my background and training as a National Park Service ranger. (Be prepared for all disasters!) Now I'm recovering with some bouts of regression. Daniel noticed that both our kid and I came back changed from our experience in Denmark. Our daughter's gross motor skills were off the charts, leaping and bounding, kinesthetically aware. I backed off and switched into observation mode, evaluation of risks and benefits, and providing invitations to learning and play. Through my research for this film, and our interviews with the experts that we met, I came to understand the Nordic methodology of udeskole (teaching outside) and the cultural attitudes of friluftsliv (which roughly translates to "open air life") infused in everyday life. We were so lucky to have this opportunity for a parent's journey of discovery and the film is our way of sharing that experience.
Save
Save
Save
Save
Save