Did you know that tulip poplar trees have large, cup-like flowers, and that the little stem on a tree's leaf is called a petiole? Or that rhododendrons are actually a type of tree, not a bush? I didn't, until I read Treecology: 30 Activities and Observations for Exploring the World of Trees and Forests by Monica Russo (Chicago Review Press, 2016), a science and nature book geared toward grade schoolers aged 7 and up. Even though the target reader for this book in our family is the Big Naturalist, who is 8, I quickly found that I'm having as much fun with it as she is.
The good news is that at the end of this post you have a chance to win a copy of it as well!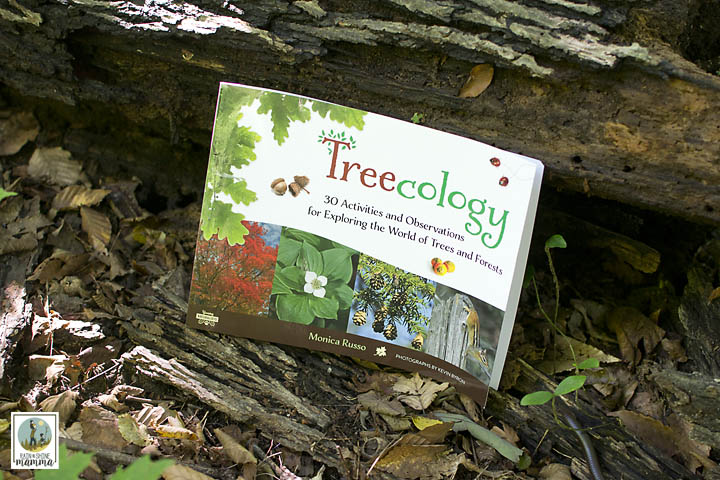 Full of facts and activities, Treecology contains eight chapters, each shedding light on different aspects of the curious lives of trees. For example, one chapter explains different tree families, another one talks about tree nuts, and a third explains what happens to a tree after it dies. Each chapter also has prompts called "Try This," "Look For," and "Listen For" that encourage children to explore trees, either through observation or self-guided activities. The activities are designed to promote nature literacy and can be done whether you live in the country, a suburb or the city.
A few sample activities from Treecology:
Estimate the height of a young tree
Investigate the underside of a leaf
Count a cluster of pine needles
Look for forest food for animals
"Paint" bark with sweet mixture to attract woodland moths
Treecology covers tree species from all over North America, ranging from the common shagbark hickory to the rare American chestnut. Even the banana tree, which is grown in California and Louisiana, gets a mention, as well as the Amazon rain forest, although the main focus is on species that typically grow in nearby nature.
Treecology is illustrated throughout with beautiful color photos and hand-drawn images, and the layout is a virtual smorgasbord of breakout boxes with tidbits of information about trees and woodlands. This makes it easy to read and visually pleasing to kids and adults alike. In fact, when I surreptitiously left the book out on the kitchen counter, both the Little and Big Naturalist were immediately drawn to it.
Although it is intended for budding naturalists in grade school, many of the activities in Treecology can be done by preschool-age children as well, with a little guidance from a teacher. Whether you homeschool or not, I could see it being useful to parents too. While just playing in nature is great for kids of all ages, I personally find it really helpful to have a little knowledge about the ecosystems that the girls and I are exploring. At ages 5 and 8, their questions about different tree species, who eats what in the forest and how the species are all connected stump me on a regular basis. This book won't answer all of them, but it's an excellent place to start!
Would you too like to have your own copy of Treecology? Then enter the giveaway below for a chance to win one! In order to enter my giveaways (and get awesome content right in your inbox) you need to subscribe to my email updates. If you're already a subscriber – good for you! You can move on straight to the Rafflecopter below. And if you don't win the giveaway, you can buy a copy of Treecology here.
Disclaimer: Chicago Review Press kindly provided me with a copy of Treecology for the giveaway, but as always I only share products that I personally use and love. This post contains affiliate links. Read my full disclosure policy here.
Save
Save
Save