In my native country of Sweden, people live by the old Scandinavian saying "There's no such thing as bad weather, only bad clothes," and dressing for the weather is akin to a national sport. This is especially true when it comes to children, who are expected and encouraged to play outside regardless of the weather. Although Sweden is spared from tornadoes, hurricanes and extreme heat, winters can be brutally long and the rainfall epic. Rather than waiting for the weather to improve (which could potentially lead to long-term hibernation), harsh or unfavorable conditions usually mean business as usual in Sweden. And yes, kids still play outside – spring, summer, fall, winter.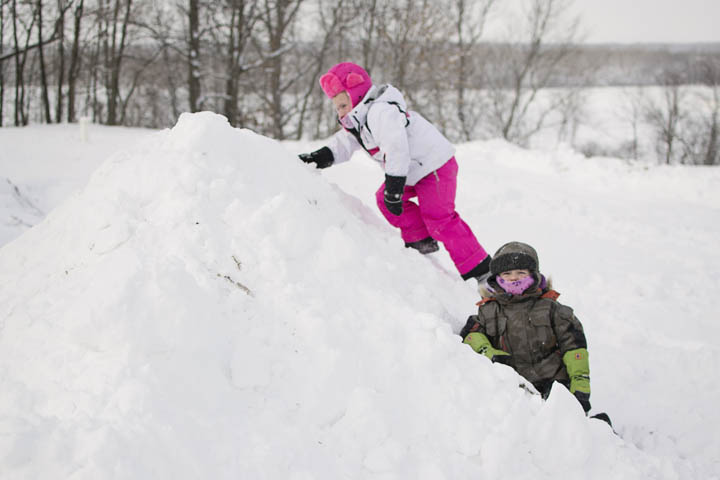 But when I lived in the American Midwest, my habit of taking my daughters outside every day, rain or shine, sometimes caused people to question my sanity.
One day, when my first daughter was a baby, we were out for a walk on a beautiful, but cold, winter day when a white SUV pulled up next to us and a woman popped out her head. "Would you like a ride? It's really cold out there," she said with concern in her voice. I thanked her for the offer but politely declined, explaining that we were both well bundled up and enjoyed the fresh air. She nodded, but I could tell that the idea that I would voluntarily walk with my daughter in 15-degree weather (-9 C) was beyond her. And that's not the only time I've been offered a ride from passers-by taking pity on me with the assumption that I simply didn't have access to a car.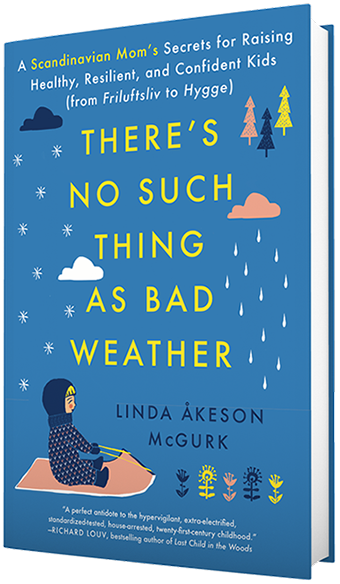 A lot of people who are my age or older remember walking to school and having recess outside most days. Today students are often kept inside in the winter, watching movies or playing games in the classroom. I often hear people flat out say that kids "have no business being outside when it's cold." Others are slightly horrified that I let my girls play outside in the mud when it rains.
To get outside rain or shine is simply not the norm today.
I'm sure my "rain or shine" philosophy makes a lot of people think I'm either crazy or a sucker for punishment. So let me explain why I do it. The short answer is that the many benefits of playing outside don't stop just because the weather takes a turn for the worse. More specifically, these are my top five reasons for making sure my kids play outside every day, regardless of the weather:
1. I want my children to become resilient.
Resilience is defined as the ability to deal with and bounce back from serious life challenges, and it's an invaluable life skill. Outdoor play in general is a great way to build resilience and even more so when the weather conditions are more challenging. A
2010 study of a British forest school
, where children play outside all year round, rain or shine, showed that this pedagogical approach helps children "develop and extend their physical skills, confidence and resilience."
2. I want them to experience the uniqueness of each season.
There's something magical about exploring the shifting face of nature as one season turns into the next. In my experience, children are far less fazed by inclement weather than adults and many form a strong bond with nature while playing with rain, mud, snow or ice. Outdoor play in all seasons also fosters an understanding of the cycles of life. For example, going outside on a blustery day can trigger a lot of questions, like how plants cope with the cold and how animals find food in the winter.
3. I want them to be active.
Physical activity is key to children's health but kids can only be so active within the confines of four walls, and let's face it – the lure of TV, tablets and other electronic media is even stronger in the dark and cold winter months. Making outdoor time a daily routine is one way to make sure children stay active all year round. I find that the whole family does better if we all get outside for some active play and fresh air, even if it's only for half an hour on nasty days.
4. I want them to be prepared.
When we were slammed with heavy snowfalls and frigid temperatures during last year's Polar Vortex, weather forecasters and public officials warned people against leaving the house. So we bundled up and went out and played. Not for long – just long enough to give us an appreciation for how cold -15 degrees Fahrenheit (-26 C) really is. While the dangers of frostbite are real and should be taken seriously, it is possible to enjoy outdoor play in cold weather with the proper gear and precautions. Learning how to layer clothes and how to recognize early signs of frostbite can help both children and adults be better prepared in case of a real cold-weather emergency.
5. I want them to find joy in nature – all year round.
Time after time I find that the rewards of spending at least a little time outside every day by far outweigh the discomforts of inclement weather. The therapeutic effect of a walk in the woods is not diminished by rain or cold. In fact, sometimes the feeling of conquering those harsh conditions is what makes me feel alive. Or as this article from the Guardian so beautifully puts it, "winter is about the joy…of finding pleasure in discomfort." And if my girls watch me finding joy in nature every day, regardless of the weather, chances are they will too.

Save
Save
Save
Save
Save
Save
Save
Save