I'm always looking for opportunities to use nature as a learning tool and since the Little Naturalist is working on her ABCs, I thought I would look for ways to incorporate the alphabet in our outdoor play. Making letters out of sticks is a super easy activity that doesn't require much advance planning, yet gives your child an opportunity to work on his or her problem-solving skills and supports what she or he is learning in preschool.
Activity: Make letters (or the whole alphabet, or words) out of sticks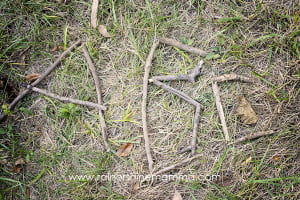 Best age range: 2-5
Location: A wooded area
Materials:

Start by going for a walk in the woods and collect tree branches of varying lengths and shapes. Then, ask your child how many letters she can make from just one stick. Two? Three? And so forth. Are some letters harder than others? Which letter shapes occur naturally in the woods? Can you find a stick that resembles a Y? Or a T?
The great thing about this activity is that it can easily be customized depending on the child's age. For a toddler walking in the woods, picking sticks and then playing with them can be an adventure in itself, though the Little Naturalist quickly took a cue from her older sister and created the letter X by crossing two sticks. An older child can try to spell out the whole alphabet or words using tree branches.