This is the second post in a new series about forest school pedagogy and learning outside from Rain or Shine Mamma. Last week we focused on math and counted to 10 with nature in a fun, interactive way. This week we're heading out with a few simple tools and the goal to explore the forest floor and the critters that call it home.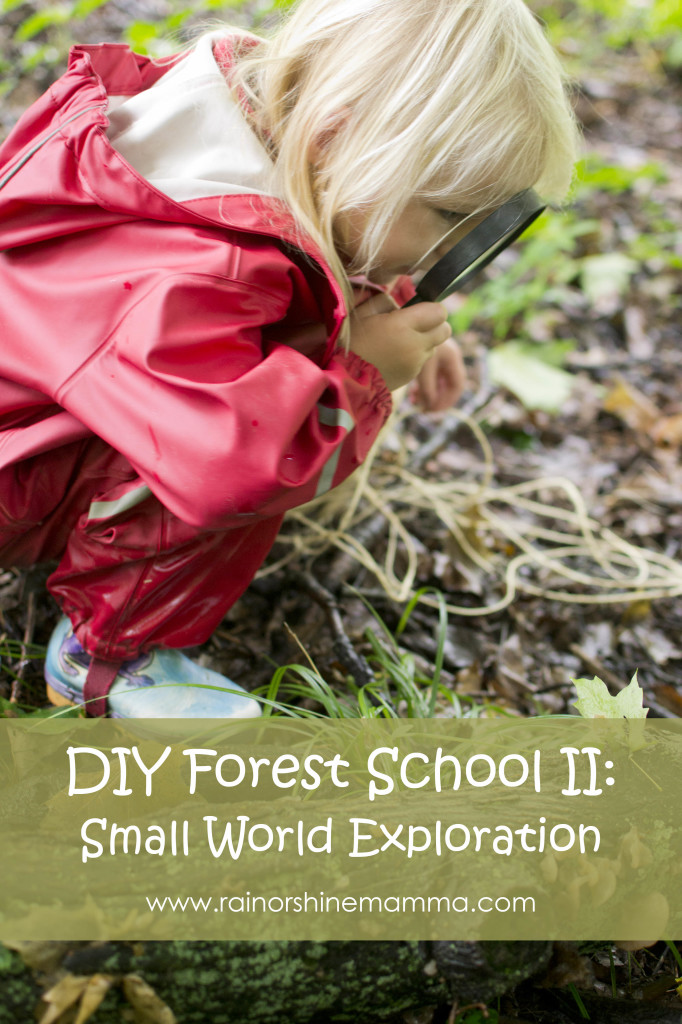 Sometimes you don't see the forest for the trees, but what if you don't see the forest floor for the leaves?
Often when we spend time in nature, our focus automatically gravitates toward the obvious features of the woods – creeks, flowers, trees, squirrels, birds or maybe deer. It's easy to forget that the ground is also teeming with tiny life forms that are worth exploring. So for this week's forest school session, I wanted to turn our gaze downwards for a different perspective.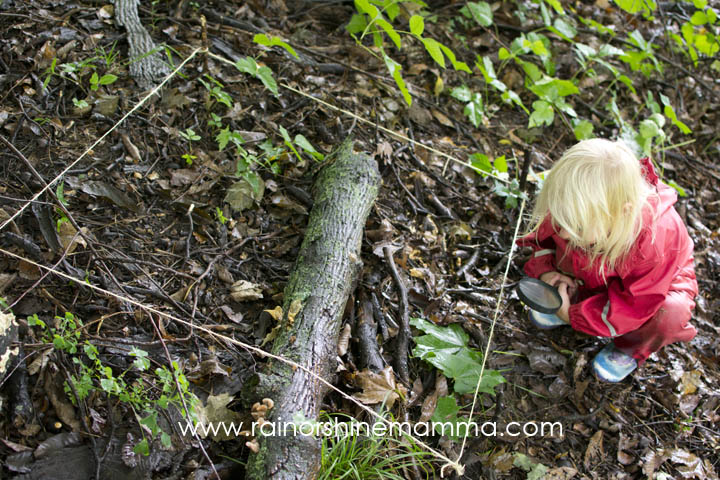 As usual, this activity should be viewed as an invitation to learn and explore, rather than a lesson plan. Learning sessions in nature are usually open-ended, and even if you set it up exactly the same way I did, you may get a different outcome, depending on  your child's interests. That's just fine!
And don't worry if you don't have all the items on the list, it only takes a few basics to make this activity a blast for a young child. If I had to choose just one tool for this activity, the magnifying glass would be it, since that's what really makes these small worlds come to life.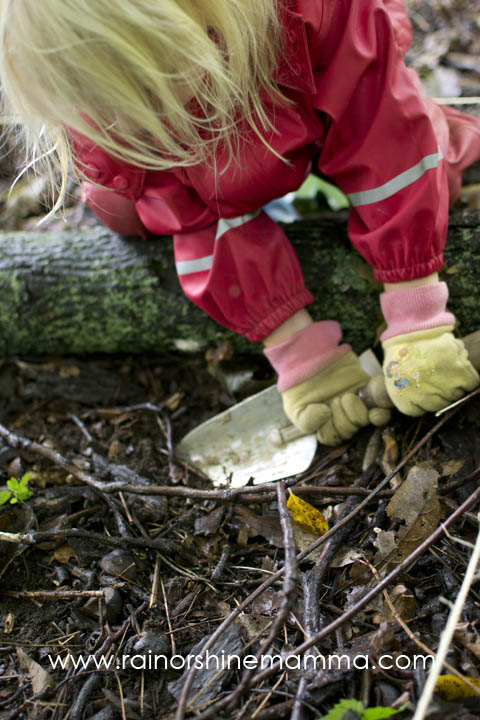 Small World Exploration
Age: Preschool-1st grade
Time: 1-2 hours
Materials:
12 foot (approx. 4 m) piece of string
Measuring tape
A white piece of cardboard (or regular office paper)
Trowel
Magnifying glass
Tweezers
Bug container
Sketch pad
Colored pencils
Place: Forest floor, other natural area, or even your backyard
How to do it:
After my daughter helped pick out a good spot on the forest floor I used the string to make a 3'x3′ (approx. 1m x 1m) square, securing the corners with sticks. This step is not mandatory, but I did it to encourage her to focus on a specific area, and to introduce scientific method in a very basic way. Then she picked up the trowel and magnifying glass and went to work.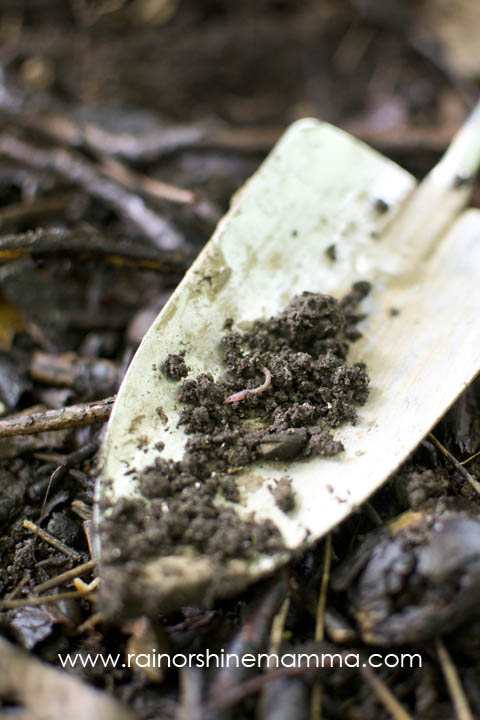 She quickly found a tiny earthworm, then a bigger one. Tiny, white bugs also emerged from the small hole that she dug in the ground. I suggested that she place the worms on the white piece of cardboard to get a better view of them and she did, observing them, mesmerized, through the magnifying glass.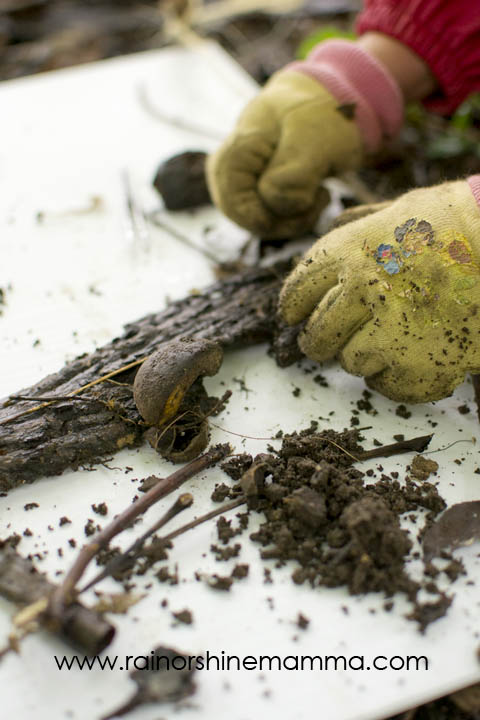 Soon, her attention turned toward a small log on the ground. She found a crack in the bark and started prying it with the blade of the trowel (the tree was dead – another important tenet of forest schools is not to damage anything living in nature). She worked long and hard, and was proud when the piece of bark finally came off. "Look, Mommy! I'm working!" She examined the surface with the magnifying glass and then started working on another crack.
Next, I showed her the tweezers and how to use them. Tweezers are a fantastic tool for practicing fine motor skills and there are many ways they can be applied in nature. The Little Naturalist used them to pick up small twigs and lined them up on the cardboard. But she soon found a bigger challenge when a roly poly emerged from the soil. After some initial fiddling, she managed to grasp the bug very gently and place it in the plastic bug container, where she examined it further with the magnifying glass.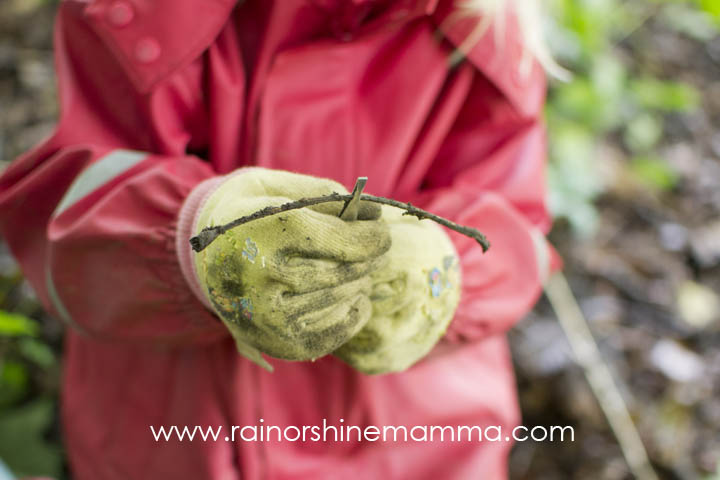 We wrapped up the session by bringing out the sketch pad and colored pencils. Soon, an imaginary world where giant roly polies and whales intermingled had sprung from the white pad.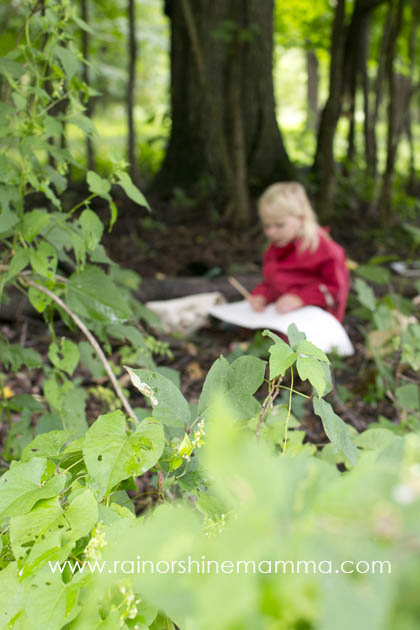 All in all, we spent a couple of hours on this small world exploration, and we easily could've stayed out longer. I think part of the reason why my daughter was so absorbed by it, was that I was there to encourage and guide her. This is also a key tenet of forest school pedagogy: Adults share in the exploration and discovery in nature, since this gets the children excited and signals to them that their interests are relevant.

Have you been able to get outside and learn with your kids this week?
Don't forget to follow me on Facebook, Pinterest and Twitter!